Search Engine Optimization, often abbreviated as SEO, is getting more and more competitive in recent days. As we know, SEO trends changes yearly. This indicates that what is expected from you, as a digital marketer, also changes.
To get your SEO strategy right, firstly, you should understand how the algorithm works. In addition, your business will also need to provide insightful and relevant content to your audience. It's crucial for you to present dynamic contents that align with ongoing trends and what your audience is looking for. 
With that in mind, let's delve into SEO trends that digital marketers like us have observed over the years, and some projections for the coming year.
Market trends that drive SEO growth in Singapore.
1. Increased digital consumption.
As the country with the second-highest internet penetration rate in Southeast Asia of 88.4%, and one of the fastest internet speeds globally, digital consumption is reaching new heights every year in Singapore.
2. Shift in consumer behavior.
Customers are no longer passive; an increasing portion of customers generate user-generated content (UGC) by writing reviews, comments, etc. For instance, 81% of Singaporean customers now rely on the internet to read product reviews, make price comparisons, etc., before making any purchases.
3. Impact of COVID-19 on internet usage.
With double digit growth in e-commerce in Singapore, we can imagine how rapid the increase in web visits and traffic can be. While internet usage is reaching its peak, SEO plays an even bigger role in increasing website visibility to internet users. This consequentlyThis gives you, digital marketers, a ton opportunity to utilize it to market product offerings.
SEO challenges that Singaporean SMEs face.
1. Competing against established firms.
While you're trying to craft your business' perfect SEO strategy, hundreds of other companies are also doing the same, both small and large.
What's making it even more challenging for SMEs to climb up the search engine ranking is how Google favors well-known brands like Nike, Adidas, etc. Likewise, you'll need to gain your audience's trust in order to start generating traffic.
Try placing yourself in the audience of your audience's shoes. For instance, you are trying to find the perfect recipe to bake cupcakes. Would you rather click on the recipe given by BBC Good Food, as shown below, or one by a smaller bakery that you're not too familiar with? Probably the one written by BBC Good Food, right?
That's where the role of credible online presence comes in.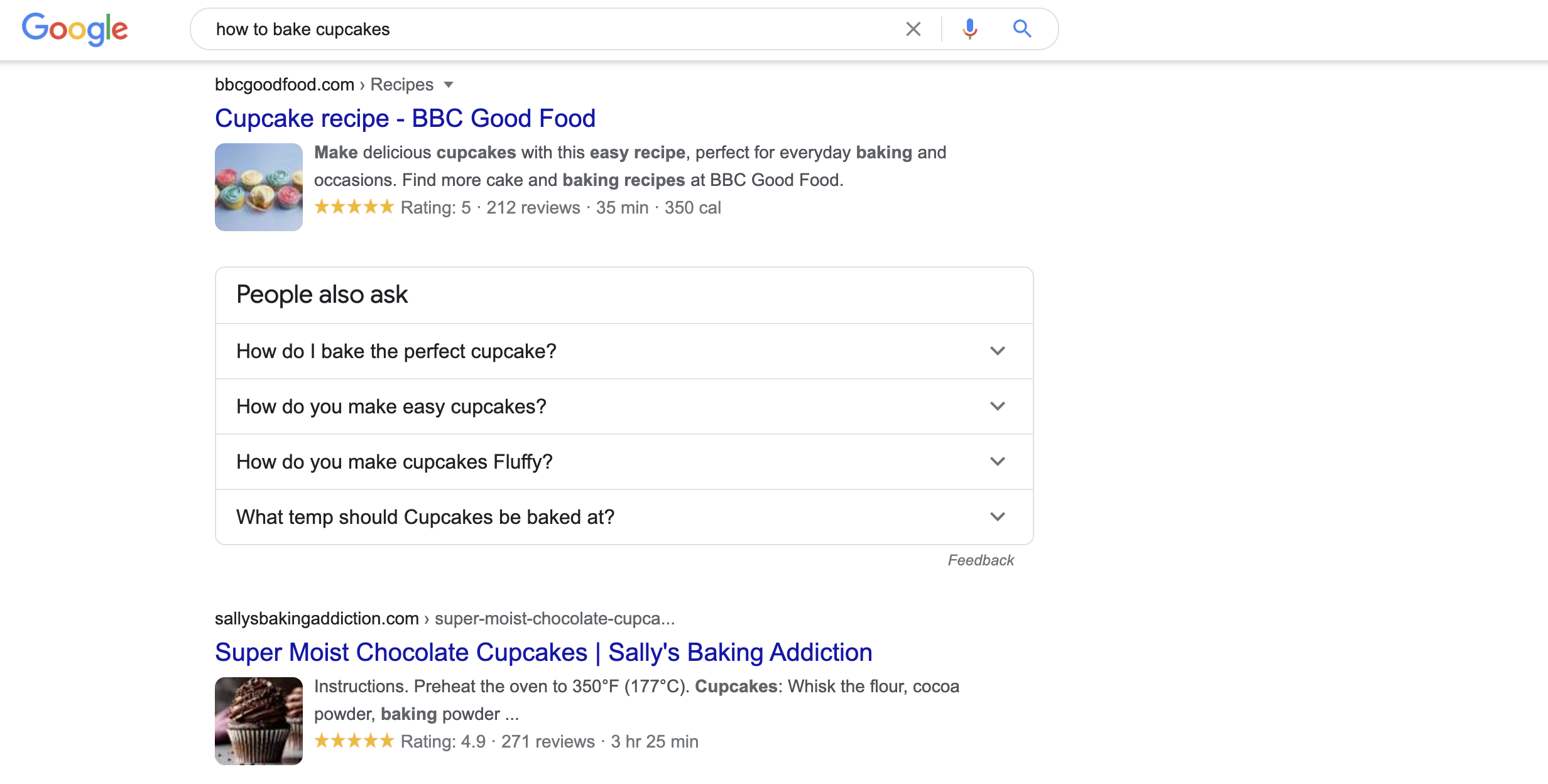 Fortunately, it's not as challenging as it sounds to build your business' online presence. You can start by posting reviews from your happy customers, which will eventually benefit your local SEO as well.
2. Expecting short-term results.
Remember the quote "there's no such thing as an overnight success"? Well, that's somewhat true for SEO. A lot of SMEs that invest in SEO expect short-term results.
Unfortunately, that's mostly not the case when implementing an SEO campaign. Drafting your SEO campaign is just beginning. Subsequently, you'll need to maintain consistency to attain the results you want.
Generating traffic is only the tip of the iceberg. You'll need to do more to convert those clicks to sales, which will eventually gain your business additional profit.
3. SEO related tasks are time-consuming!
Majority of SEO related tasks are time-consuming, especially when you are limited on human resources. That's the reason why most companies, despite their scale of operations, outsource their SEO services to a digital marketing agency in Singapore.
That's because most of these companies have tremendous experience and expertise to overlook and carry out the entire campaign for you.
Projected SEO trends in 2021.
1. Optimize for mobile.
Going further, one of Google's top priorities when ranking websites is its mobile-friendliness. In 2019, the search engine introduced mobile-first indexing, indicating that it will look primarily at the mobile version of the website, and not the desktop.
The reason behind this shift is the fact that nearly 73% of internet users are predicted to access the internet solely via mobile by 2025. If your website is not yet mobile-friendly, you're totally missing out on a large proportion of potential audiences.
Examine the mobile-friendliness of your website with Google's very own mobile-friendly test. You can also take a look at the "mobile usability" report in Google Search Console.
2. User Experience (UX).
User experience offers convenience for website visitors. As a result, going forward, Google Search will factor a handful of UX signals into its page ranking index, according to Google Webmaster Central Blog post.
This includes Google's new Core Web Vitals, which according to the Google Team, is defined as:
"A set of real-world, user-centered metrics that quantify key aspects of the user experience. These aspects measure dimensions of web usability such as load time, interactivity, and the stability of content as it loads."
3. Voice search and virtual assistants.
According to a survey conducted by Google, 85% of consumers think that voice search is "the future". With such opinions from consumers, it probably makes a lot of sense to predict that 50% of all searches will be performed by voice in the coming year (Comscore).
How can your business get a grip of this trend? People would most likely alter their search queries into longer, conversational and natural-sounding phrases. WIth that in mind, your business can start optimizing content around those keywords or phrases. Examples would be using "What are SEO trends for 2021?" instead of "SEO trends 2021".
Besides, you can also choose to add FAQ sections or snippets of content, dedicated specifically to answer voice search queries.
4. Search Intent will be a top priority.
Google is making search intent, the reason behind a searcher's query on search engines, a higher priority. As expected, the better your page matches the search intent, the higher it will rank.
There are four main types of search intent:
Informational.
Transactional.
Commercial.
Navigational.
One of the easiest ways of figuring out Search Intent is to analyze the keywords on your keyword lists. Moreover, you should make sure that your page and your content align with that specific Search Intent.
5. Video SEO.
Similar to Facebook Ads, an effective SEO strategy will also need to include a video. According to Cisco, video is projected to surpass all other content formats in terms of consumption. This prediction makes sense as YouTube recently reaches 2 billion users monthly.
Similar to a typical SEO strategy, keywords are again the key to success. One of the simplest methods is to use YouTube's autocomplete feature. This method allows you to get a better idea of what people are searching for on Youtube. You can start by typing the topics you have in mind and seeing what comes next.
Key Takeaway
To sum up, rising internet consumption and user-generated content open a new opportunity for digital marketers. In order to be ahead of the game, your business should get started on your SEO campaign today.
It is vital to take into consideration to projected SEO trends for the coming year. Just so that the contents you are creating align with what people are searching for on search engines.
Remember, don't expect short-term results with your SEO campaign. That said, it would be best if you aimed for long-term results that offer your business sustainable revenue or profit.
However, the increasing competitiveness of SEO and the complexity of designing and implementing a campaign adds another reason for your business to outsource your SEO services to a digital marketing agency in Singapore. With our end-to-end assistance, you might be able to achieve more return from your SEO campaign.