You, as a marketer, likely believe that the social media landscape has reached saturation.
Hold it.
What if I told you that a brand-new app has 1 billion users actively using it per month worldwide?
That's right. 1 Billion users per month.
1 billion users per month.

– Tiktok
What if I told you that the same app had already outsmarted more well-known ones like Twitter, Snapchat, and LinkedIn in a matter of days?
If such an app existed, I'm sure you'd be curious to learn more.
All I'm trying to communicate is that there's a new kid in town.
TikTok is one software that has recently seemingly put the entire world into a trance.
Many people cannot explain how this software has been able to "suppress" well-known rivals like YouTube, Instagram, and Facebook.
Despite having a sizable and active user base in Singapore, TikTok is not your typical plug-and-play application.
Unbeknownst to most, TikTok has an excellent user base.
The people in this group can be odd, picky, and discerning – like square pegs in round holes.
Although this is the case, marketing-related success stories abound.
Why Is TikTok Marketing Effective in Singapore?
On TikTok, finding the appropriate audience is like winning the marketing lottery.
There is less competition, and you may directly interact with your target market.
But other factors make TikTok marketing appropriate for your Singaporean brand.
1 Billion TikTok Users
The user base of TikTok is incredible.
You can choose from more than 1 billion users per month worldwide.
Yes.
1 billion.
That's 1 with nine zeros in it.
36% of this is attributed to the APAC area and Singapore.
The platform has daily active users compared to those of Facebook and Instagram.
Despite this, there is no denying TikTok's latent marketing potential.
Language Diversity
TikTok only supports one language.
Wrong.
There are over 39 languages accessible to it, making it one of the top social media apps.
You may communicate the same to 39 different worldwide communities in addition to using it for your local business.
And of course you can put "Singlish" as well "la".
A Growing Fan Base
The image of Gen Z comes to mind when TikTok is spoken. On the one hand, the number of young people using the app is increasing rapidly. Conversely, TikTok users in the 29–39 age group are also growing.
According to Statista, 62.1% of the users in Singapore fall in the 18 to 24 years old age bracket.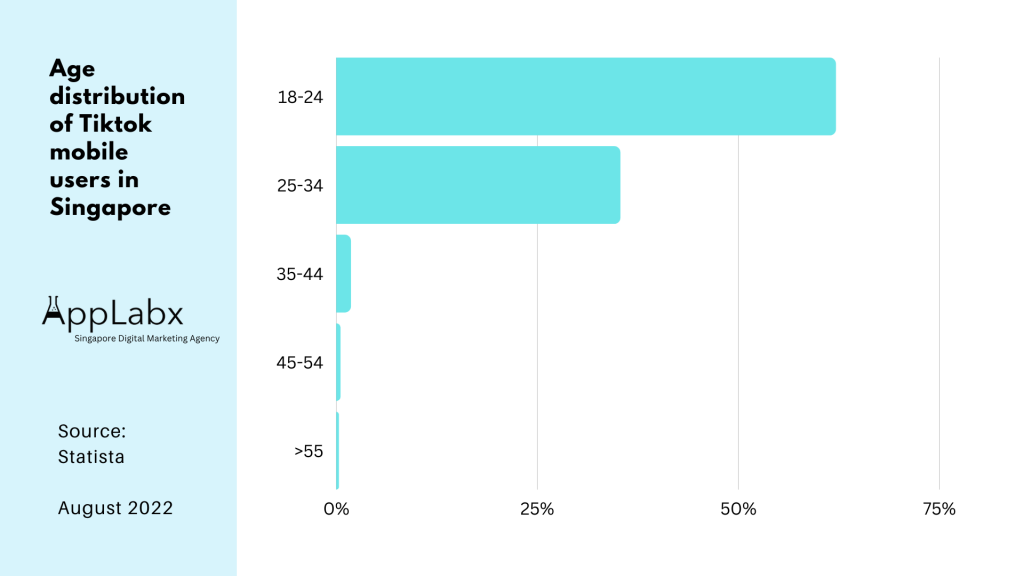 Hence, if your business caters primarily to audiences in the 18 to 34 age bracket, then Tiktok might be an ideal place to advertise and build your brand.
For example, fast-food businesses such as McDonald's, Pizza Hut, and KFC can gain some brand prominence and mindshare by leveraging Tiktok to win the fast food battlefield in Singapore.
Benefits of TikTok Marketing
1. Increasing Brand Awareness
TikTok promises increased brand recognition, just like other social media channels.
Your brand can seize the chance to increase its potential with a more extensive audience base.
Through TikTok, you may distribute helpful content to get more leads.
According to Tiktok, the size of the advertising audience in Singapore is around 2.7 million (December 2022).
2. Bring More People to Your Website
Can TikTok aid in the organic traffic that your website receives?
Consider it this way.
Post-eye-catching product or service films, then add a compelling call to action (CTA) at the end. In addition to driving the numbers, it also raises your search ranking.
3. Engage With Customers
TikTok develops a distinct brand voice, but you must recognize that you need distinctive videos and advertisements to use it.
The tone of the content on this site is laid back.
Your humorous films demonstrate to viewers that you are a pleasant and competent person to work with.
4. Leverage Local Creators
TikTok has a vast following right in your neighborhood.
Let's assume that these regional artists are your regional influencers.
You don't need to look for influencers on the other side of your company who want to take advantage of the app's potential.
What to Take into Account When Choosing TikTok for Marketing in Singapore?
Given the constantly growing user base, marketing governs the use of social media.
Does that also apply to TikTok in Singapore, though? Here are some things to think about to do it correctly.
1. Demographics
Before you start, consider whether your target audience fits into a category that supports Gen Z.
The app has you covered if your target market is people in the 16 to 24 age range.
Consider considering your strategy if you're going after people between the ages of 36 and 56.
Also, if you are a fashion brand catering to the female population, then good news for you. Tiktok has a higher number of female users on it. Thus, making your branding and marketing activities efficient as compared to the other marketing platforms.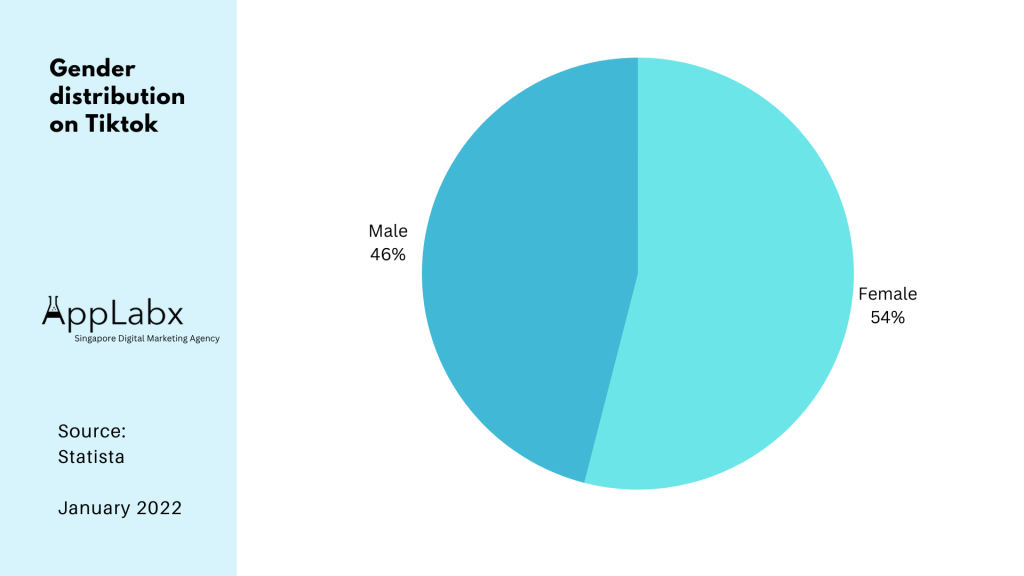 2. The Allure
Would interacting with the TikTok audience benefit your brand?
TikTok is the newest crown jewel in Singapore's digital marketing industry.
But pause and consider whether the risks you took and the effort you expended were worthwhile.
Some comments made from the Tiktok audience and communities can be snide and demeaning to your brand thus, you might need to dedicate additional effort and time to police those comments from your Tiktok Page.
3. Control
What if I told you that for your brand to succeed, you must give up some control over the TikTok community?
Then, decide if you feel okay letting influencers run it how they see fit. It differs from traditional marketing because the messaging is left to your brand. Before posing a challenge, that needs to be taken into account.
4. Influencer Input
Check to see if you need to use influencers. If so, are you aware of the ideal "troop" of influencers who can have the impact you seek?
Always check if the influencers are knowledgeable and skilled in your niche.
Remember that being boring could spell disaster for both you and the influencer. Perfect harmony is necessary.
TikTok Marketing Mistakes to Avoid
As we speak, TikTok is more than just a fad. You might be developing innovative TikTok tactics to outperform your rivals. However, in your haste and blindness, you can trip and commit serious errors. Here are some mistakes to be aware of and prevent.
1. Recommending the Wrong Products
You are aware of the audience's cynicism on TikTok. They are younger than 26 years old. Please note that they are picky about the goods and services that match their tastes and age. You will undoubtedly need to complete this step.
2. Posting Lacklustre Videos
TikTok is a carefree and entertaining site. Nobody wants to watch boring presentation-style videos, so it better be enjoyable and straightforward if you only have 60 seconds to present one. Always research the reasons why specific videos are famous before applying your creativity.
3. Going Salesy on TikTok
The idea of being marketed on social media is revolting. On TikTok, you cannot afford to do that. Even if you do this deftly, it will make TikTokers avoid your material in the future.
4. Ignoring the Music
Have you forgotten that the Musically platform was where the app first debuted?
Gen Z has a strong passion for music even if it's only a simple background song that keeps them entertained. The piece is essential to your videos, so pay attention to it.
How To Master Tiktok Marketing: 4 Tips
TikTok marketing is tricky.
Not because the platform is brand-new but because it differs significantly from our previous experiences.
TikTok marketing has more than just audience acquisition as its objective.
The goal is to engage in as many meaningful encounters as you can.
Here are some pointers for accomplishing this independently.
1. Lead generation through content
Content is king on TikTok.
Although everyone enjoys a good laugh or cartoon, it isn't what keeps us going back for more.
It is the fantastic stuff that is available on the platform.
Whether your company is established or just getting started, you can take advantage of this.
The fact that most businesses use videos of themselves to create leads is one of the major issues with TikTok marketing for businesses.
This is great when you have hundreds or thousands of movies to pick from, but it isn't easy to find just one that will work as a lead magnet.
Create and curate material that other companies and brands want to be connected with to position yourself as an authoritative voice in your field rather than depending solely on videos of yourself.
Every marketer on TikTok should have this as their ultimate objective.
Produce insightful, educational material to persuade readers to become leads and customers.
The fact is that you are the expert in your field.
Essentially, you're doing something no one else can do by producing meaningful content for your sector.
Additionally, you're providing yourself with a great selling point that is unique to you.
2. Measure the appropriate metrics.
To evaluate the effectiveness of your TikTok campaign, it's critical to use the appropriate metrics.
You should take a close look at stuff like:
How many people have viewed your video
How many comments your video has gotten
How many people have liked your video
How many people have shared your video
The number of finished timepieces (i.e. views)
You may assess the effectiveness of your TikTok video using a wide range of data. Just be sure to measure the appropriate ones.
3. Personal branding is key
Branding is a synopsis of your professional image that increases interest in what you offer among current and potential clients.
It's simple to understand why personal branding is so crucial, considering that over 80% of shopping decisions are now made on social media.
Your brand will be everything on TikTok.
Customers can find your material through your profile.
Therefore, you must position yourself as an authority figure in your field.
You can do this through personal branding.
Your title.
Your photograph.
Your profile's summary.
Customers will use these minor details to find your content.
Ensure all of your information is accurate, consistent, and complete.
Customers will better comprehend your identity and services as a result.
Additionally, it makes marketing oneself on the platform much simpler for you.
Authenticity reigns supreme in the digital era.
Make sure your company has a voice and messaging to pique their interest.
They'll be interested in learning more about you once they've discovered your stuff.
And once they find that you are an authority in your field, they will want to work with you because of your knowledge.
Your brand is a reflection of your identity.
So, make sure it's thorough and well-organized.
4. Put keywords in your video tags, descriptions, and headlines.
Your video's headline, description, and tags are all crucial to getting it to appear in Google's organic search results.
These three seemingly short terms can significantly affect how well your video performs in search results.
The most attention will be generated for the contents of your film by using the keywords that Google offers.
Hashtags can also be used in headlines, descriptions, and tags.
By doing this, you will increase the visibility of your video to your intended audience.
Additionally, don't be afraid to use a few French, Spanish, or Italian words in the tags or description of your movie.
The more diverse your video content is linguistic, the better.
In Singapore, there lives a huge diaspora of expatriates and foreigner employees who can be attracted and converted into leads for your business.
It also demonstrates that you have done your homework and comprehended the requirements of your audience.
In addition, it is fantastic when a consumer watches your video in Singlish and chooses to visit your website or purchase your product because it is available in the local lingua franca.
These are only a few advantages of changing the language of your content.
Localizing your content may reach a larger audience and improve the likelihood that a consumer or prospective customer will find it.
Conclusion
TikTok is arguably one of the most popular social media sites today, despite being a relatively young platform.
More companies in Singapore are joining the TikTok bandwagon since they have successfully used the platform for marketing.
Even though the benefits of TikTok marketing appear to be alluring, companies should remember that creating a successful presence on any new platform requires careful strategy and resources.
If you need top-class, proven expertise in Tiktok marketing starting at a low price of only $1,900 per month, then do book a consultation slot here with our accounts team: https://calendly.com/applabx
If you find this article useful, why not share it among your digital marketing counterparts, and also leave a nice comment below?
We at AppLabx Research Team strive to bring the latest and most meaningful data, guides, and statistics to your doorstep.