Key Takeaways
Elevate Your Online Presence: Discover top-notch, free WordPress themes tailored for Singaporean businesses and startups in 2023, ensuring a captivating and professional online presence without the cost.
Seamless Functionality: Explore themes designed for speed, customization, and user experience. Unleash the potential of your website with these user-friendly and feature-rich options.
Stay Ahead in 2023: Stay ahead of the digital competition with these best free WordPress themes. Benefit from sleek designs, responsive layouts, and powerful tools, optimized for Singaporean businesses and startups' success.
---
In the ever-evolving realm of the internet, where aesthetics and functionality intertwine to create captivating online experiences, having a visually appealing and user-friendly website is paramount for businesses and startups alike.
In bustling Singapore, where innovation meets tradition, the digital landscape is a canvas waiting to be painted with the vibrant colors of creativity and efficiency.
Whether you are a budding entrepreneur venturing into the world of e-commerce or an established business seeking a fresh online presence, the right WordPress theme can make all the difference.
As we step into 2023, the digital playground offers a plethora of options, but navigating through them can be overwhelming.
Fear not, for we have meticulously curated a list of the 7 Best Free Themes for WordPress in 2023, tailor-made for Singapore businesses and startups.
In this comprehensive guide, we will not only unveil these themes but also delve deep into their features, user experience, and the unique ways they cater to the dynamic needs of the Singaporean entrepreneurial spirit.
Join us on this exciting journey as we explore the intricacies of each theme, empowering you with the knowledge to make an informed decision for your online presence.
From sleek designs that captivate the modern consumer to robust functionalities that streamline your operations, these themes have been handpicked to elevate your digital footprint.
In the heart of Singapore's thriving business ecosystem, where tradition meets innovation and opportunity knocks at every corner, having a website that resonates with your audience is key.
Whether you are a boutique cafe in Tiong Bahru, an e-commerce store in Orchard Road, or a tech startup in one of the bustling coworking spaces, your website is your storefront to the world. It speaks volumes about your brand, your values, and the quality of your offerings.
But fret not, dear reader, for we understand the challenges that come with choosing the perfect WordPress theme.
The internet is flooded with options, each claiming to be the best.
How do you sift through the noise and find a theme that not only aligns with your brand identity but also offers a seamless user experience?
That's where we come in.
In the pages that follow, we will embark on a detailed exploration of the 7 Best Free WordPress Themes for Singapore Businesses and Startups in 2023.
Each theme on our list has been carefully evaluated, considering factors such as design aesthetics, mobile responsiveness, customization options, SEO-friendliness, and support.
We will unravel their unique features, offering you a firsthand look into how they can transform your website into a digital masterpiece.
Whether you are a restaurateur aiming to entice food enthusiasts with tantalizing visuals, a fashion entrepreneur seeking an elegant showcase for your latest collections, or a tech startup wanting a sleek and professional platform to showcase your innovations, we have a theme for you.
Our goal is not just to present you with a list but to provide you with the insights you need to make an informed decision.
After all, your website is more than just a digital presence; it's a reflection of your passion, dedication, and the essence of your brand.
So, buckle up and get ready to embark on a digital odyssey where creativity knows no bounds, and the perfect WordPress theme for your Singapore-based business or startup awaits.
Let's dive into the intricacies of design, functionality, and user experience, and discover the ideal theme that will set the stage for your online success in 2023 and beyond.
Welcome to a world where innovation meets aesthetics, and your digital dreams take flight.
But, before we venture further, we like to share who we are and what we do.
About AppLabx
From developing a solid marketing plan to creating compelling content, optimizing for search engines, leveraging social media, and utilizing paid advertising, AppLabx offers a comprehensive suite of website development services designed to drive growth and profitability for your business.
AppLabx is well known for helping companies and startups build top-class WordPress Websites.
At AppLabx, we understand that no two businesses are alike. That's why we take a personalized approach to every project, working closely with our clients to understand their unique needs and goals, and developing customized strategies to help them achieve success.
If you need a digital consultation, then send in an inquiry here.
7 Best Free Themes for WordPress in 2023: A Comprehensive Guide
1. Astra
In the expansive realm of WordPress themes, Astra stands as a formidable titan, a reputation not merely confined to the sphere of free WordPress themes but extending far beyond.
Its dominance is underscored by an astonishing statistic: a staggering 1+ million active installations, as per the authoritative WordPress Repository.
What attributes have propelled this free theme into the echelons of popularity?
The answer lies in its robust foundation of features and code quality, setting a standard that aligns with nearly all the essential criteria one might seek in a WordPress theme.
Regrettably, Astra lacks one accolade: the Accessibility-Ready classification.
Nevertheless, its appeal is profound, especially for those aspiring to establish a WooCommerce enterprise. Astra's integration with WooCommerce is profound, earning accolades from leaders within the eCommerce industry.
Moreover, the Astra experience extends beyond the rudimentary checkboxes of functionality.
It is a testament to its forward-thinking design that it is not merely compatible but seamlessly integrated with popular platforms such as Gutenberg, Elementor, Beaver Builder, and Brizy.
A glimpse into their offerings reveals an expansive library of website starter templates, each meticulously optimized for these platforms.
One notable example is a starter site, ingeniously crafted with Astra and Gutenberg, showcased in the accompanying screenshot.
Technical finesse is another forte of Astra.
Unlike its counterparts, it eschews render-blocking jQuery, opting for Vanilla JavaScript.
This strategic choice ensures an uninterrupted performance, enhancing loading speed significantly.
In fact, Astra accomplishes the remarkable feat of loading in under half a second, a testament to its dedication to speed optimization.
Furthermore, Astra empowers webmasters with the ability to host Google Fonts locally, a subtle yet impactful enhancement that accelerates font loading, thereby elevating the Core Web Vitals (CWV) score.
This innovative approach underscores Astra's commitment to user experience, prioritizing both speed and aesthetics.
Remarkably, Astra achieves all these feats while maintaining exceptional efficiency.
Its resource footprint is astonishingly lean, requiring less than 50KB of resources.
This stands in stark contrast to the hundreds of kilobytes demanded by its peers, showcasing Astra's commitment to streamlined performance.
Underpinning these achievements is Astra's adherence to the most stringent coding standards, leveraging default WordPress data to optimize every line of code.
This meticulous approach ensures not only functionality but also a level of efficiency that is rare in the realm of WordPress themes.
In summation, Astra transcends the ordinary, offering a seamless blend of functionality, speed, and optimization.
Its popularity is not merely a testament to its numbers but to the unparalleled user experience it offers.
For those in pursuit of a WordPress theme that embodies excellence in every facet, Astra stands as an indisputable choice, promising a digital canvas where innovation meets efficiency.
2. OceanWP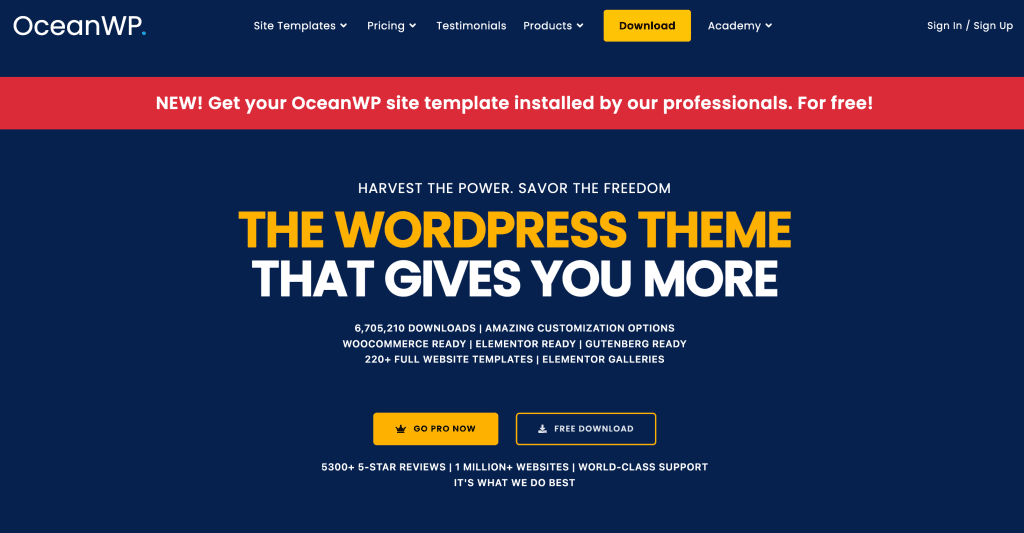 In the expansive landscape of the WordPress Repository, OceanWP emerges as a true luminary, boasting a remarkable tally of over 700,000 active installations.
This numerical testament to its popularity is not merely coincidental; it is a direct consequence of the theme's exceptional attributes and versatile offerings.
A cursory glance at OceanWP reveals a theme that seamlessly aligns with our stringent criteria, ticking all the essential boxes with finesse.
One of OceanWP's standout features is its collection of 15 free website demos, each meticulously crafted to serve as an inspirational launchpad for your digital endeavors.
These demos, coupled with eight free extensions, provide a robust foundation upon which you can build your website.
However, should you opt for their premium offering, the landscape expands dramatically.
An impressive array of 88 demo sites and 12 extensions await, offering an unparalleled spectrum of choices to cater to diverse needs.
What sets OceanWP apart, and indeed places it in the echelons of elite WordPress themes, is its seamless scalability.
The theme exudes an aura of freedom; you can embark on your digital journey without the constraints of a limited toolkit.
As your needs evolve and new requirements emerge, OceanWP gracefully accommodates these changes.
The transition to its premium tier becomes not just an upgrade but a natural progression, enabling you to effortlessly enhance your website's capabilities.
OceanWP is not merely a theme; it is a canvas upon which your digital vision can come to life. Its lightweight structure and exceptional extensibility empower you to curate a myriad of website types.
Whether you aspire to craft an immersive blog, an elegant portfolio, a sophisticated business website, or a seamless WooCommerce storefront, OceanWP stands as the quintessential choice.
Its design exudes both beauty and professionalism, ensuring your online presence resonates with your audience.
Speed, responsiveness, and adaptability are OceanWP's cornerstones.
The theme's loading speed is exemplary, ensuring that your visitors are met with swift and engaging experiences.
Furthermore, OceanWP is not bound by linguistic confines; it is RTL (Right-to-Left) and translation-ready, embracing global audiences effortlessly.
Embracing best SEO practices, it secures your digital footprint in the competitive online sphere.
A unique facet of OceanWP lies in its WooCommerce integration.
Tailored features are seamlessly woven into the theme, enhancing conversion rates and elevating your online store's performance.
The theme's adaptability extends to various devices; you have the flexibility to customize settings even on tablets and mobiles, ensuring your site maintains its aesthetic allure across the spectrum of devices.
For creators seeking compatibility with popular page builders, OceanWP emerges as the ideal companion.
Whether you prefer the intuitive interface of Elementor, the sophistication of Beaver Builder, or the creativity of Brizy, OceanWP seamlessly integrates with these platforms.
Developers, too, find solace in OceanWP's codebase, which is not just robust but also delightfully extensible. This makes customization and extension a joyous endeavor, reflecting the theme's commitment to flexibility.
In essence, OceanWP transcends the realm of themes, becoming a symbiotic partner in your digital odyssey.
Its alignment with popular tools such as Elementor and WooCommerce cements its status as the discerning creator's best friend.
As you navigate the intricate landscape of online presence, OceanWP stands as a beacon of reliability, adaptability, and creativity, ensuring your website becomes a masterpiece in the digital tapestry.
3. Neve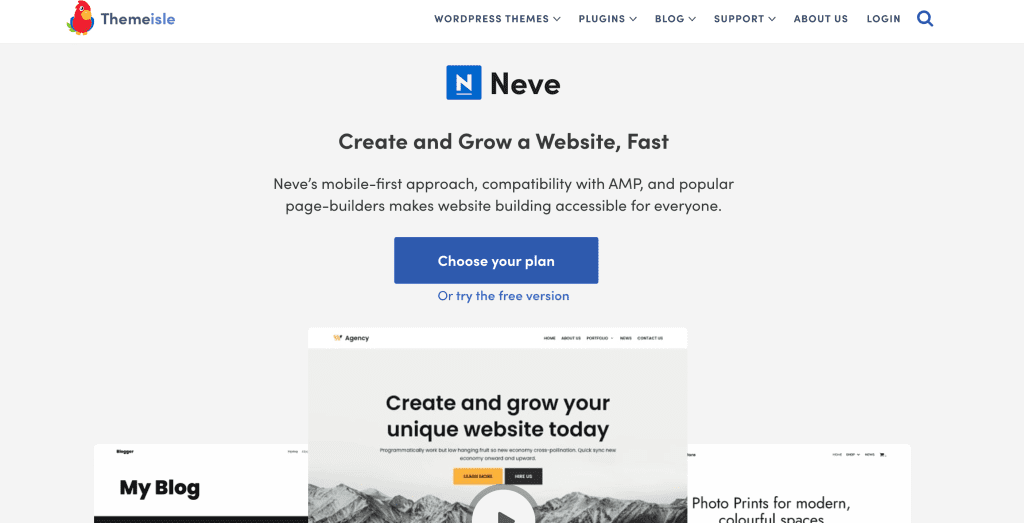 In the vast expanse of free WordPress themes, Neve by Themeisle emerges as a versatile gem, replete with features that cater to a myriad of digital needs.
Its multi-purpose design renders it suitable for an array of applications, ranging from eCommerce ventures to dynamic blogging platforms and thriving small businesses.
Neve seamlessly integrates with the WordPress block editor, Gutenberg, showcasing unique block styles.
However, its compatibility extends far beyond Gutenberg; Neve harmoniously collaborates with prominent page builders such as Elementor, Brizy, Beaver Builder, Visual Composer, SiteOrigin, and Divi.
Moreover, it exhibits a remarkable adaptability, ensuring compatibility with any well-coded WordPress plugin, augmenting its functionality even further.
Where Neve truly distinguishes itself amidst the competitive landscape is in its steadfast commitment to search engine optimization and rapid page loading speeds.
The theme is meticulously crafted to be responsive, ensuring an impeccable visual experience across a spectrum of devices.
Furthermore, Neve is fully AMP (Accelerated Mobile Pages) optimized, guaranteeing that every page not only looks aesthetically pleasing but also loads with exceptional speed, regardless of the device it is accessed from.
At its core, Neve is more than just a free theme; it represents a harmonious blend of speed, adaptability, and functionality.
Its lightweight structure belies its extensive customization capabilities, allowing users to tailor it precisely to their preferences.
Despite its minimalist design, Neve is profoundly extendable, accommodating intricate modifications while maintaining its remarkable loading speed.
One of Neve's standout attributes is its robust search engine optimization.
Its underlying code is meticulously crafted, adhering to the highest standards of SEO.
As a result, websites built with Neve consistently achieve commendable rankings in Google search results, a testament to its effectiveness in enhancing online visibility.
Furthermore, Neve seamlessly integrates with Gutenberg and several renowned page builders, including Elementor, Brizy, Beaver Builder, Visual Composer, SiteOrigin, and Divi.
This compatibility ensures that users have the freedom to choose their preferred content creation tools, enhancing the theme's flexibility and user experience.
Additionally, Neve stands as a testament to inclusivity.
It is fully responsive, meaning that the website it powers maintains its aesthetic integrity and functionality across devices of varying screen sizes.
The theme is also RTL (Right-to-Left) and translation ready, accommodating diverse linguistic and cultural preferences.
While Neve is offered as a free theme, it extends the option of additional paid commercial upgrades and support, catering to users seeking enhanced features and dedicated assistance.
This dual nature—providing a robust free version while offering premium options—ensures that Neve is accessible to users across different levels of expertise and budget constraints.
In essence, Neve embodies the spirit of adaptability, speed, and user-centric design.
Its seamless compatibility with various plugins and page builders, coupled with its dedication to search engine optimization, positions it as an invaluable tool for WordPress enthusiasts, entrepreneurs, and businesses alike.
Whether you're embarking on a blogging venture, establishing a small business, or venturing into the realm of eCommerce, Neve stands as a reliable and versatile companion, promising an optimal blend of form and function for your digital endeavors.
4. Hello Elementor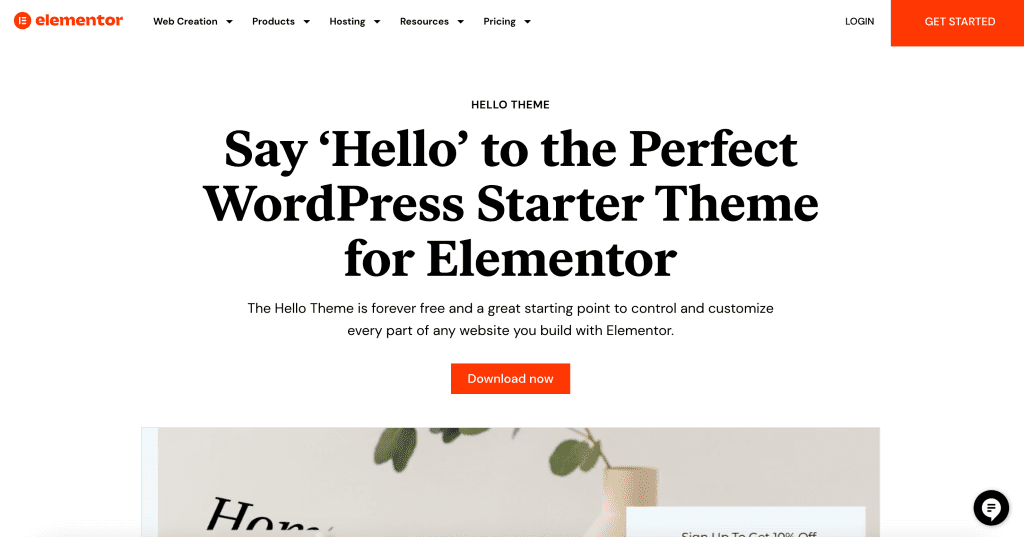 Enthusiasts of the renowned Elementor page builder are bound to be enamored with the Hello Elementor theme, an exceptional canvas meticulously designed to complement Elementor's prowess.
This theme, available for free download from the WordPress repository, serves as a pristine foundation for creative minds.
Among the array of free WordPress themes compatible with Elementor, the Hello Elementor theme stands out due to its exceptionally tight integration with the plugin – a synergy so inherent that it's explicitly stated in its name.
Hello Elementor offers an unparalleled integration with Elementor Pro, which takes your website-building experience to unprecedented heights.
By upgrading to Elementor Pro, you unlock a treasure trove of possibilities.
The drag-and-drop editor empowers you to craft every element of your website visually, eliminating the need to delve into intricate lines of code.
This intuitive interface ensures a seamless and code-free customization journey.
One of the highlights of Elementor Pro lies in its extensive library of website kits.
These kits are meticulously crafted, catering to diverse industries and needs.
Each template within this repository is not just visually stunning but also inherently responsive and fully customizable.
This ensures that regardless of your niche or vision, there's a template perfectly tailored to your requirements.
Moreover, Elementor Pro offers an arsenal of over 100 widgets, each serving a specific purpose.
Whether you're conceptualizing intricate designs or incorporating advanced e-commerce capabilities, these widgets simplify the process, allowing you to assemble every component of your page effortlessly.
A key feature that sets Elementor Pro apart is its responsive editing functionality.
Crafting a website that looks flawless on a variety of screens is imperative in today's digital landscape.
With Elementor Pro, you have the flexibility to adjust your website's layout, ensuring a perfect presentation on up to seven different devices. This level of customization guarantees a consistent user experience, regardless of the device your audience is using.
Furthermore, the live editing feature elevates your website-building experience to an interactive realm.
As you design your website, you can witness your creations coming to life in real-time.
This dynamic, live preview empowers you to make instant adjustments, allowing you to fine-tune your website until it mirrors your vision perfectly.
In essence, the Hello Elementor theme coupled with Elementor Pro is more than a mere tool; it's an immersive experience in web design.
From the seamless drag-and-drop editor to the plethora of templates and widgets, every element is meticulously crafted to ensure that your website not only meets but exceeds your expectations.
As you embark on your digital journey, Hello Elementor and Elementor Pro stand as your steadfast companions, promising a website-building experience defined by creativity, precision, and unparalleled ease.
Need help with WordPress? Let us know
AppLabx proudly stands as the epitome of excellence in WordPress development and design within Singapore's vibrant digital landscape.
With a profound commitment to innovation and a keen eye for aesthetics, we redefine the online presence of businesses and startups.
Our expert team crafts visually stunning and highly functional WordPress websites tailored to meet the unique needs of Singaporean enterprises.
Through cutting-edge design, seamless functionality, and a user-centric approach, we transform visions into captivating digital experiences.
Trust us to elevate your brand to new heights, making AppLabx the ultimate choice for WordPress development and design in Singapore.
If you need a digital consultation, then send in a free inquiry here.
5. Kadence WP
In the bustling realm of the WordPress Repository, emerged Kadence WP, a relative newcomer making its debut in November 2020.
Yet, in a remarkably short span, it has made a resounding impact, garnering an impressive collection of over 150 five-star reviews and amassing a community of more than 200,000 active installations.
Within the realm of impeccable free themes, Kadence WP stands out as a powerhouse, seemingly encapsulating the most robust features and value within its free package.
What sets Kadence WP apart is its ability to seamlessly incorporate features that typically reside on the other side of a premium upgrade.
It's not just about ticking the essential criteria boxes; Kadence WP offers an array of functionalities that elevate it to a class of its own.
From a header and footer builder to global font and color controls, Kadence WP empowers users with unparalleled customization capabilities.
Moreover, its deep integrations with a diverse array of potent plugins designed for eCommerce ventures, e-courses, and more, expand its utility manifold.
One of the defining principles of Kadence WP is its unwavering commitment to performance.
In an era where page speed and overall site performance are paramount, Kadence WP places these aspects at the core of its design philosophy.
The theme and its associated products undergo constant optimization to align with the demands of the modern web.
This focus on performance ensures that websites powered by Kadence WP not only function seamlessly but do so with an impressive speed that enhances user experience significantly.
Accessibility, often overlooked, is a cornerstone of Kadence WP's ethos.
Right from the inception of its products, accessibility is meticulously woven into the fabric of its design.
Rigorous planning, testing, and retesting processes are undertaken to guarantee the creation of websites that are not just visually appealing but also accessible to all, regardless of their abilities or disabilities.
This inclusive approach ensures that every visitor, regardless of their background, can navigate and engage with Kadence WP-powered websites effortlessly.
Kadence WP's dedication to customer success is exemplified through its premium support services.
The support team is more than a help desk; they are dedicated partners in your digital journey.
Striving to surpass expectations, the support team goes above and beyond to assist users, earning accolades as the "best support ever received" from countless customers.
This personalized and attentive approach underscores Kadence WP's commitment to the success and satisfaction of its users.
Furthermore, Kadence WP simplifies the setup process, ensuring a fast and smooth experience for users.
It provides a foundation with beautifully designed sites, requiring users to merely customize the text to their preferences.
For those seeking more intricate designs, Kadence WP offers predesigned sections that can be effortlessly integrated to build each page.
This user-friendly approach streamlines the website creation process, enabling users to focus on their content and ideas while Kadence WP handles the technical complexities.
In essence, Kadence WP is more than just a theme; it's a holistic solution that embodies performance, accessibility, and exceptional support.
Its ability to seamlessly incorporate premium-level features within a free package makes it a standout choice for discerning WordPress users.
As you venture into the digital landscape, Kadence WP stands as a reliable ally, promising not just a theme but an empowering platform for your creative endeavors.
6. GeneratePress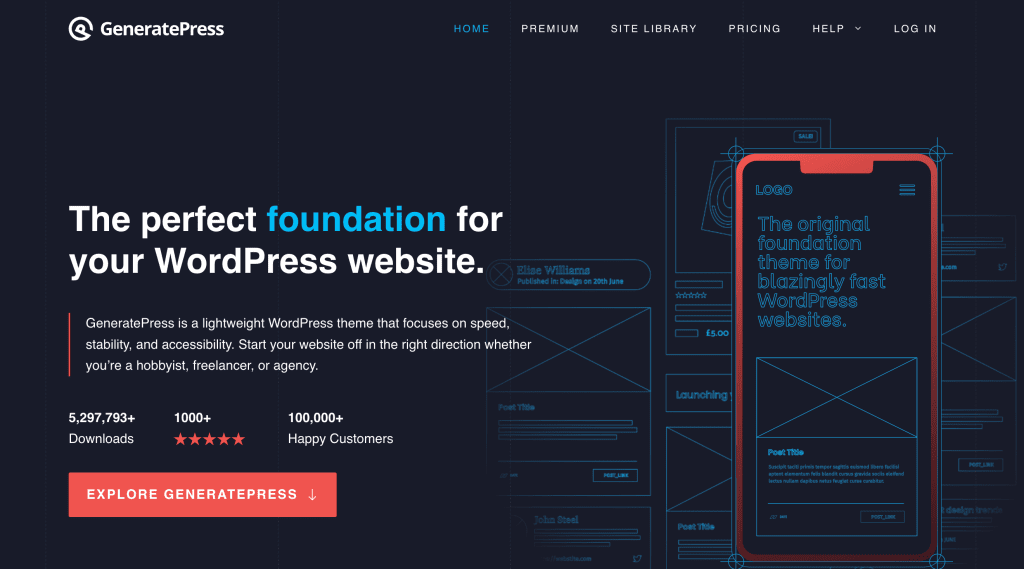 In the bustling landscape of WordPress themes, GeneratePress has swiftly emerged as a rising star, capturing the attention of users far and wide.
What sets GeneratePress apart is its unwavering focus on three key pillars: speed, performance, and seamless compatibility with various website builders.
This dedication to excellence has catapulted GeneratePress into the limelight, making it a compelling choice for website creators.
One of GeneratePress's remarkable attributes is its profound commitment to speed, usability, and accessibility, making it a preferred choice for those aiming to optimize their website's performance.
The free version of GeneratePress is meticulously engineered to prioritize these essentials.
With a remarkably lean page size of just 7.5kb, a mere 2 HTTP requests, and zero dependencies, it provides an exemplary foundation to elevate your website's performance to the coveted 100% PageSpeed scores.
This achievement, often elusive, becomes attainable through GeneratePress's efficient design, ensuring an unparalleled user experience.
Furthermore, GeneratePress takes pride in its unparalleled support system, mirroring the theme's speed and flexibility.
The support team, spread across the globe, exemplifies efficiency by addressing over 98% of all requests within the same day.
This rapid and reliable support network ensures that users are never left stranded, enhancing their confidence in utilizing GeneratePress for their websites.
Compatibility is at the core of GeneratePress's design philosophy.
Whether you have a favorite plugin or prefer a specific page builder like Elementor or Beaver Builder, GeneratePress seamlessly integrates with these tools.
Its coding standards are meticulously crafted to ensure compatibility with top-rated plugins right from the outset.
This compatibility extends beyond the technical realm; GeneratePress adheres to WCAG 2.0 standards, making certain that every visitor, regardless of their abilities, can navigate and engage with websites powered by GeneratePress.
Moreover, the theme is accessible in over 20 languages, a testament to its global reach and inclusivity.
This multilingual support, encompassing both Left-to-Right (LTR) and Right-to-Left (RTL) languages, eliminates language barriers and ensures a truly global audience.
While GeneratePress offers a remarkable free version, its premium counterpart, GeneratePress Premium, takes the user experience to greater heights.
Through GeneratePress Premium, users gain access to the impressive Site Library, a showcase of pre-designed demos that exemplify the theme's potential.
This extensive library illustrates the possibilities with major builders like the WordPress block editor, Elementor, and Beaver Builder.
While these professionally designed options are available through an upgrade, GeneratePress users possess the ability to craft designs that are equally unique and visually appealing, showcasing the theme's versatility.
GeneratePress stands as a beacon of excellence in the world of WordPress themes.
Its commitment to speed, performance, and compatibility, coupled with its dedication to accessibility and global inclusivity, renders it not just a theme but a sophisticated tool tailored for discerning website creators.
As users venture into the dynamic realm of website development, GeneratePress emerges as a steadfast companion, promising a seamless and exceptional experience marked by speed, versatility, and unwavering support.
7. Zakra
In the dynamic landscape of WordPress themes, Zakra emerges as a stellar choice, particularly for those in pursuit of swift website experiences.
This theme stands out due to its remarkable speed, ensuring efficient and responsive performance across various devices, especially on mobile platforms.
Zakra offers a repertoire of over 30 meticulously crafted starter-site templates, providing users with a diverse array of options to kickstart their websites.
A one-click demo importer further streamlines the setup process, allowing users to delve into their creative endeavours promptly.
Customization is a breeze, facilitated by Zakra's seamless integration with the Elementor page builder plugin.
This compatibility not only simplifies the customization journey but also grants users the flexibility to mould their websites according to their unique visions.
For those seeking more intricate design control, Zakra allows the incorporation of custom CSS, offering advanced customization options.
At its core, Zakra is a lightweight theme with a robust foundation.
Its translation-ready feature ensures compatibility with multilingual plugins such as Polylang and WPML, fostering a global reach for your website.
What sets Zakra apart is its versatility; it's not merely a theme but a potent tool designed to cater to a plethora of purposes.
With an impressive collection of over 40 pre-designed starter demo sites, Zakra facilitates the creation of websites spanning diverse niches.
Whether you're launching a blog, news site, e-commerce store, showcasing a portfolio, establishing a business site, or crafting a niche-specific platform like a cafe, spa, charity, yoga studio, wedding venue, dental practice, photography, restaurant, or educational institution, Zakra provides the necessary elements for your success.
Zakra seamlessly integrates with popular page builders, including Elementor, Brizy, BlockArt, and the Gutenberg editor.
This integration empowers users with boundless creative freedom, enabling the creation of layouts limited only by their imagination.
Notably, Zakra prioritizes speed optimization, ensuring swift loading times for an optimal user experience.
Its mobile-first responsive design underscores its commitment to accessibility, adapting flawlessly to various screen sizes.
Built with cutting-edge block-based technology, Zakra simplifies the website building process while enhancing design flexibility.
Furthermore, Zakra is meticulously optimized for search engines, enhancing the visibility of your website in the competitive digital landscape.
Its compatibility with a wide array of popular WordPress plugins amplifies its functionality, allowing users to tailor their websites to their specific needs.
In essence, Zakra transcends the conventional boundaries of a theme, emerging as a versatile and powerful ally for website creators.
Its blend of speed, customization options, and compatibility with various plugins and page builders makes it an invaluable asset.
As users embark on their digital ventures, Zakra stands as a steadfast companion, offering not just a theme but an empowering platform where creativity knows no bounds, and success becomes an achievable reality.
Conclusion
In the bustling digital landscape of 2023, Singaporean businesses and startups find themselves at the crossroads of innovation and visibility.
The choice of a WordPress theme can significantly impact their online presence, determining not just their aesthetics but also their functionality, speed, and user experience.
As we delve into the realm of the "7 Best Free Themes for WordPress in 2023 for Singapore Businesses and Startups," it becomes abundantly clear that the right theme can be a transformative force, propelling these enterprises toward unparalleled success.
Among the diverse array of free themes, Zakra emerges as a shining beacon of versatility and speed.
Its lightweight structure and compatibility with popular plugins and page builders make it a top contender, ensuring that businesses can craft websites that are not just visually appealing but also highly functional.
Zakra stands as a testament to the theme's evolution in response to the demands of modern businesses.
Its translation-ready feature, extensive starter demo sites, and integration with major page builders like Elementor and Brizy create an ecosystem where creativity knows no bounds.
For Singaporean businesses aiming for global reach, Zakra offers a seamless multilingual experience, fostering connections beyond linguistic barriers.
GeneratePress strides forward as another frontrunner in this digital race. Its emphasis on speed, performance, and compatibility sets it apart.
GeneratePress excels not just in its lean design but also in its unwavering support and accessibility features, ensuring that every visitor, regardless of their abilities, can engage meaningfully with the content.
The theme's ability to seamlessly integrate with various builders, coupled with its global inclusivity, makes it a compelling choice for businesses aiming for broad audience engagement.
For Singaporean startups with a global vision, GeneratePress becomes an indispensable tool, enabling them to create websites that resonate with a diverse array of audiences.
In the realm of WordPress themes, Kadence WP emerges as a newcomer with a remarkable impact.
Its rapid rise, marked by an impressive number of installations and stellar reviews, underscores its appeal among users.
Kadence WP's unique blend of features, including a header and footer builder, global font and color controls, and deep integrations with potent plugins, positions it as a powerhouse.
For businesses and startups seeking a theme that transcends the ordinary, Kadence WP stands as a beacon of customization, empowering them to create digital experiences that align precisely with their brand identities.
Neve by Themeisle shines as a beacon of adaptability and user-centric design. Its extensive library of website kits, compatibility with popular page builders, and commitment to responsiveness make it a reliable choice for businesses in Singapore.
Neve's ability to cater to diverse industries, whether it's blogging, e-commerce, portfolio showcasing, or educational platforms, showcases its flexibility.
For Singaporean entrepreneurs with varied business ventures, Neve becomes a canvas where their visions can flourish.
Hello Elementor emerges as a favorite among enthusiasts of the Elementor page builder.
Its seamless integration with Elementor, coupled with its drag-and-drop editing prowess, empowers businesses to create visually stunning websites without grappling with complex coding.
The theme stands as a testament to the harmony between simplicity and creativity, offering a platform where businesses can showcase their products and services with elegance.
OceanWP, with its extensive array of free website demos and versatile extensions, positions itself as a powerhouse for e-commerce ventures.
Its deep integration with WooCommerce and compatibility with various page builders make it a robust choice for businesses aiming to establish captivating online stores.
For Singaporean businesses diving into the e-commerce realm, OceanWP provides the necessary tools to create immersive shopping experiences.
Astra, a titan in the WordPress theme arena, finds its place as a go-to option for businesses interested in e-commerce.
Its integration with WooCommerce, along with its speed optimization and intuitive starter templates, creates a conducive environment for online businesses to thrive.
Astra's commitment to optimized code and efficient loading times ensures that businesses can capture the attention of their customers swiftly and effectively.
In conclusion, the journey through the "7 Best Free Themes for WordPress in 2023 for Singapore Businesses and Startups" has been a transformative exploration of digital possibilities.
Each theme represents a unique pathway, offering businesses in Singapore diverse avenues to establish their online presence.
Whether it's the speed-focused elegance of Zakra, the accessibility and support of GeneratePress, the customization prowess of Kadence WP, the adaptability of Neve, the simplicity of Hello Elementor, the e-commerce prowess of OceanWP, or the efficiency of Astra, each theme stands as a testament to the boundless potential of WordPress.
As businesses and startups in Singapore navigate the complexities of the digital landscape, these themes serve as invaluable tools, empowering them to craft websites that mirror their vision and resonate with their audiences.
In this age of digital innovation, the choice of a WordPress theme becomes more than a technical decision; it becomes a strategic investment in the online identity of a business.
Each theme, with its unique features and capabilities, offers a canvas where creativity meets functionality, promising businesses in Singapore a future where their online presence is as dynamic and vibrant as the city-state itself.
With these themes at their fingertips, Singaporean businesses and startups are poised to embark on a digital journey marked by excellence, innovation, and boundless possibilities.
If you are looking for a top-class website development agency, then book a free consultation slot here.
If you find this article useful, why not share it with your friends and business partners, and also leave a nice comment below?
We, at the AppLabx Research Team, strive to bring the latest and most meaningful data, guides, and statistics to your doorstep.
To get access to top-quality guides, click over to the AppLabx Blog.
People Also Ask
Where can I download WordPress themes for free? (Write under 320 characters)
You can download free WordPress themes from the official WordPress repository (wordpress.org/themes) or directly from your WordPress dashboard by navigating to Appearance > Themes > Add New. Additionally, many theme developers offer free themes on their websites or platforms like GitHub.
Are WordPress themes really free? (Write under 320 characters)
Yes, many WordPress themes are free and available in the official WordPress repository. However, some themes come with premium versions or additional features that require payment. Always check the licensing terms and features to ensure compatibility with your needs.
What is the cleanest WordPress theme? (Write under 320 characters)
"The cleanest WordPress theme" can be subjective based on preferences, but popular clean and minimalist themes include Astra, GeneratePress, and Neve. These themes offer simplicity, speed, and customization options, making them popular choices among users seeking a clean design.