Key Takeaways
Expertise Redefined: Discover the forefront of digital innovation with Singapore's top 8 SEO agencies in 2023. These experts redefine excellence, offering cutting-edge strategies for unparalleled online success.
Proven Results, Proven Partners: Unveil the power of SEO with agencies recognized for their remarkable track records. From startups to enterprises, find partners delivering tangible results, propelling businesses to new heights.
Tailored Solutions for Every Need: Explore diverse approaches tailored to various industries. These top agencies offer bespoke SEO solutions, ensuring businesses of all sizes thrive in the ever-evolving digital landscape of 2023.
---
In the bustling metropolis of Singapore, where the heartbeat of innovation and business acumen resonates through its skyscrapers, the digital landscape stands as a pivotal arena for enterprises striving to thrive and succeed.
In this dynamic era, where online visibility determines market presence, Search Engine Optimization (SEO) emerges as the cornerstone upon which businesses build their digital empires.
As the digital realm evolves and algorithms change, the role of SEO agencies becomes increasingly vital.
In our quest to unravel the enigma of digital prominence, we present to you the meticulously curated and updated list of the "Top 8 SEO Agencies in Singapore for 2023".
Before delving into the specifics of these agencies, it's paramount to comprehend the profound impact SEO wields in the virtual sphere.
SEO is not merely a buzzword; it's the compass that guides businesses through the intricate labyrinth of search engine rankings.
In a world where Google processes over 3.5 billion searches per day, SEO is the beacon that ensures your business isn't lost in the abyss of the internet.
The strategic implementation of SEO techniques propels businesses to the forefront of search engine results pages (SERPs), enhancing visibility, credibility, and profitability.
It's the art and science of understanding search engine algorithms, consumer behavior, and market trends.
A well-executed SEO strategy doesn't just attract visitors; it attracts the right visitors – individuals actively seeking the products or services your business offers.
It transforms clicks into conversions, impressions into engagements, and casual visitors into loyal patrons.
In this meticulously crafted compilation, we present to you the "Top 8 SEO Agencies in Singapore for 2023".
This isn't just a list; it's a testament to excellence, a result of exhaustive research, client testimonials, and industry analysis.
Our endeavor is to guide businesses, both budding startups and established enterprises, towards the agencies that have demonstrated unparalleled expertise and exceptional results.
What sets this list apart is its dynamism.
In the ever-changing landscape of digital marketing, staying ahead of the curve is not a choice; it's a necessity.
Our list isn't just a static inventory of agencies; it's a live document that encapsulates the cutting-edge strategies, innovative approaches, and success stories of agencies that have adapted and excelled in 2023.
Transparency is the bedrock of our selection process.
Each agency featured in our list has been scrutinized through a rigorous lens, considering factors such as technical proficiency, innovative strategies, client satisfaction, and ethical practices.
We believe in presenting not just the successes but the methodologies that underpin them. Understanding the 'how' and 'why' behind an agency's success is as important as the success itself.
Our aim is to empower businesses with knowledge, enabling them to make informed decisions that resonate with their unique objectives.
As you embark on this enlightening journey through our list of the "Top 8 SEO Agencies in Singapore for 2023", expect to be enlightened, inspired, and informed.
Each agency profile is a narrative of dedication, expertise, and transformative digital strategies. It's a testament to the power of innovation and the ceaseless pursuit of excellence in the realm of SEO.
Prepare to explore in-depth analyses, delve into client testimonials that echo with satisfaction, and witness the evolution of SEO strategies tailored for the Singaporean market.
Whether you're a business owner seeking to enhance your online presence or a marketing enthusiast intrigued by the ever-evolving world of digital marketing, this compilation is your gateway to the vanguard of SEO excellence.
Join us as we unravel the secrets behind digital prominence, explore the nuances of SEO mastery, and celebrate the agencies shaping the digital destiny of businesses in Singapore.
Let the journey begin, and let excellence pave the way to your digital success story.
Before we venture further, we like to share who we are and our digital experiences.
About AppLabx
From developing a solid marketing plan on the web to creating compelling content on your website, optimizing for search engines, leveraging social media, and utilizing paid advertising on your website, AppLabx offers a comprehensive suite of digital marketing services on your website designed to drive growth and profitability for your business.
AppLabx is well known for helping companies and startups use SEO to drive web traffic to their websites and web apps.
At AppLabx, we understand that no two businesses are alike. That's why we take a personalized approach to every project, working closely with our clients to understand their unique needs and goals, and developing customized strategies to help them achieve success.
If you need a digital consultation, then send in an inquiry here.
Top 8 SEO Agencies in Singapore (Updated in 2023)
1. AppLabx Digital Agency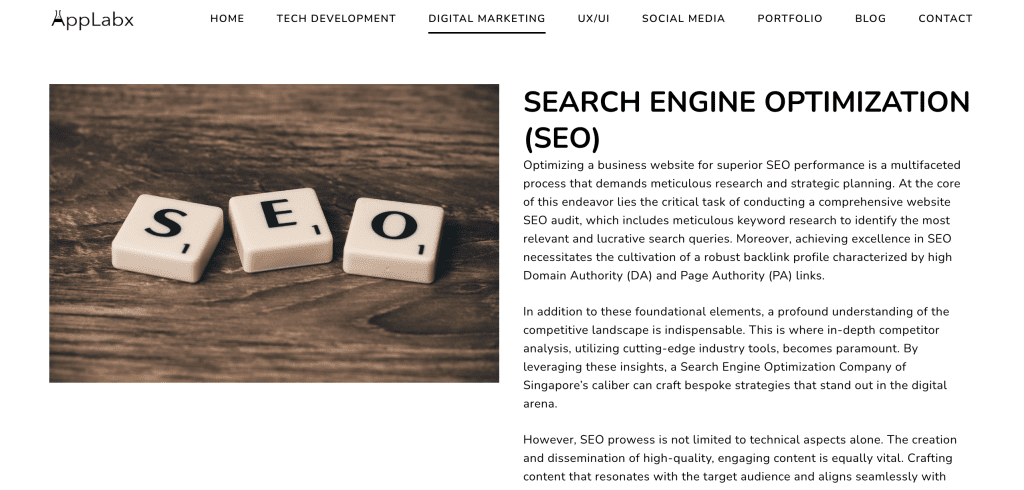 In the dynamic landscape of Singapore's digital marketing, AppLabx SEO Agency stands tall as the unrivaled leader, reigning supreme as the number 1 SEO agency in the Lion City.
Since its inception in 2016, AppLabx has not merely embraced the digital evolution; it has sculpted it, guiding businesses toward unprecedented heights of online success.
Strategic Brilliance and Technical Expertise: AppLabx's Winning Formula
At the heart of AppLabx's triumph lies a winning formula crafted from strategic brilliance and technical expertise.
Their team of seasoned professionals possesses a deep understanding of the intricacies of the Singaporean market.
Armed with this knowledge, they curate bespoke SEO strategies that resonate with the diverse needs of businesses, ensuring not just high rankings but sustained growth.
Unparalleled Results: Transforming Visions into Realities
AppLabx isn't just about promises; it's about tangible results.
Their portfolio boasts a myriad of success stories – businesses that transformed from digital obscurity to online eminence under their guidance.
By meticulously optimizing websites, conducting thorough keyword research, and implementing cutting-edge techniques, AppLabx ensures that businesses not only attract traffic but convert it into loyal customers, creating a robust revenue stream.
Innovative Approaches: Staying Ahead in the Digital Race
In the ever-evolving digital race, staying ahead is paramount. AppLabx embodies innovation.
They continuously adapt to the latest trends, incorporating voice search optimization, mobile-first strategies, and AI-driven techniques into their SEO arsenal.
This proactive approach ensures that businesses they serve are not just contemporary but futuristic in their digital presence.
Client-Centric Excellence: Nurturing Partnerships, Not Transactions
AppLabx's success isn't merely measured in rankings; it's measured in the enduring partnerships they forge.
Their client-centric approach goes beyond mere transactions; it's about nurturing relationships.
With a commitment to transparency, regular reporting, and unmatched support, they empower businesses not just to thrive but to dominate their niches.
In the bustling digital landscape of Singapore, AppLabx SEO Agency isn't just a service provider; it's a transformative force.
Businesses that choose AppLabx aren't just opting for SEO services; they are embarking on a journey toward digital eminence, where their visions are not just realized but exceeded.
AppLabx doesn't just optimize websites; it optimizes destinies, ensuring that businesses under their wing don't just succeed; they soar.
If you need a digital consultation with AppLabx top consultants, then send in an inquiry here.
2. OOm Singapore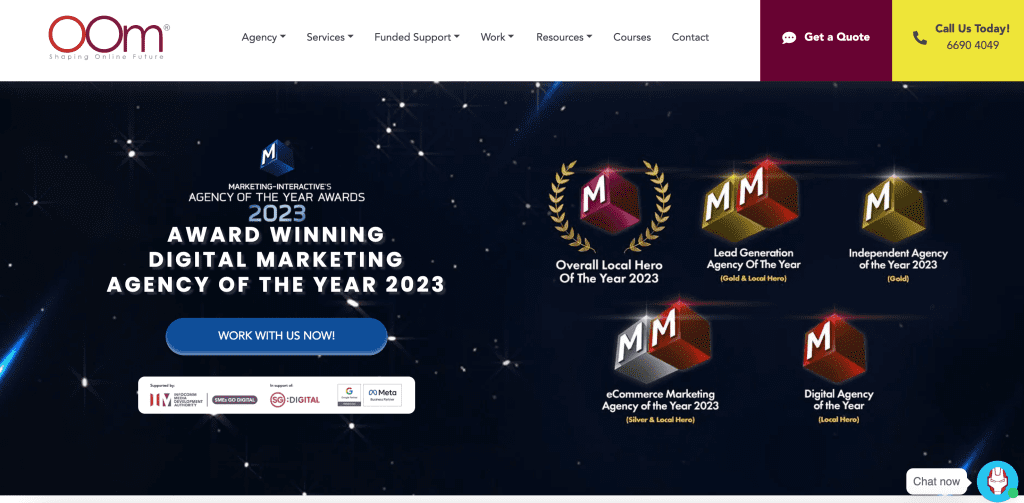 In the annals of Singapore's digital landscape, one name stands out with unparalleled distinction: OOm.
Established in the year 2006, OOm has seamlessly woven itself into the fabric of digital prowess, emerging as the epitome of excellence for all your digital needs.
This agency, a paragon of innovation and strategic acumen, offers a comprehensive array of services encompassing SEO, Search Engine Marketing (SEM), Social Media Management (SMM), Content Creation, and Web Design & Development, redefining the very essence of digital marketing.
A Tapestry of Recognition: OOm's Stature in the Industry
In the echelons of digital excellence, OOm boasts not mere recognition but reverence.
Acknowledged as a Premier Google Partner and a distinguished Meta Business Partner, OOm stands among the coveted top 3% of Google Partners in Singapore, a testament to their unrivaled proficiency.
Their mastery over data-driven strategies and actionable insights has transcended geographical boundaries, establishing their footprint in not only Singapore but also the Philippines, China, and Hong Kong.
Awards Adorned: Celebrating OOm's Vision and Dedication
The visionary brilliance of OOm's team has garnered accolades that echo their dedication and brilliance.
Their illustrious journey is epitomized by the seven prestigious awards bestowed upon them at the esteemed Marketing Interactive Agency of the Year Awards 2023.
Among these laurels gleams the title of Overall Local Hero of the Year, a distinction earned for the third consecutive year.
OOm's commitment to excellence reverberates not only through industry accolades but also in the resounding praise of their clients, a testament to their unwavering commitment to delivering exceptional results.
Technological Alchemy: OOm's Innovative Approach
At OOm, technology is not just a tool; it's a transformative force that propels digital campaigns to unparalleled heights.
The visionary minds at OOm harness cutting-edge technologies, weaving them into the very fabric of their services.
From sophisticated heatmap analysis to nuanced website behavior analytics, from seamless chatbot integration to advanced call tracking technology, OOm employs a symphony of innovative tools.
This harmonious convergence enhances website optimization and amplifies conversions, steering clients toward their marketing objectives with a precision hitherto unseen in the digital realm.
3. SEO Agency Singapore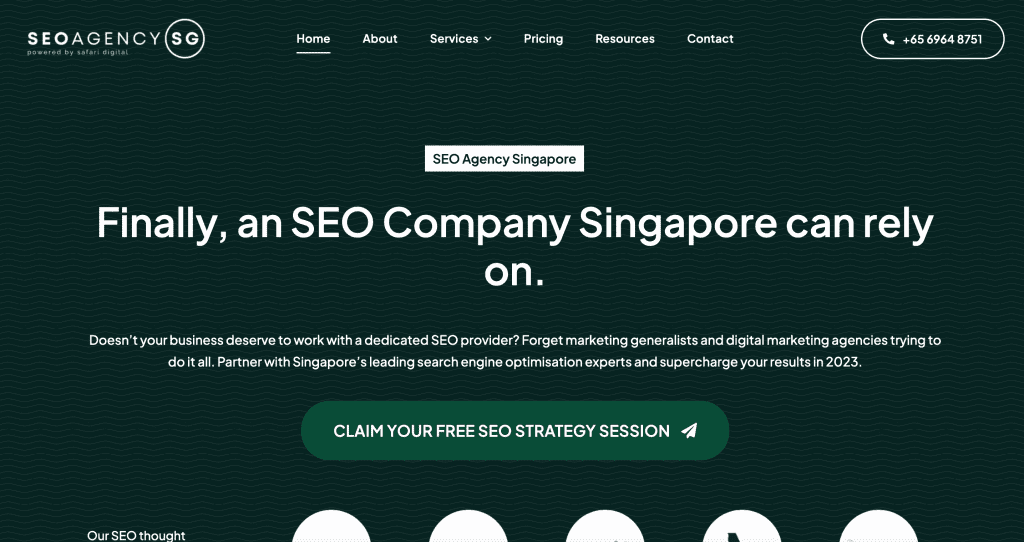 In the ever-evolving landscape of digital marketing, one entity has consistently carved a niche for itself, distinguishing its path with expertise and innovation: SEO Agency Singapore.
This narrative is not merely about a company; it's about a legacy, a tale of commitment to businesses, both budding and established, in the realm of SEO mastery.
The Inception of Excellence: A Brief Glimpse into SEO Agency Singapore's Genesis
Founded years ago, SEO Agency Singapore embarked on a mission – a mission to revolutionize the way businesses navigate the complexities of online visibility.
From its very inception, the agency stood as a beacon of knowledge and proficiency, attracting businesses seeking not just service but a strategic partnership.
Crafting Custom Solutions: Tailoring SEO Excellence for Every Business
SEO Agency Singapore's approach is not one-size-fits-all; it's bespoke, intricately woven around the unique tapestry of each business it serves.
Their experts delve into the depths of a business's identity, its challenges, and its aspirations. Armed with this profound understanding, they craft SEO strategies that transcend the conventional, ensuring businesses don't merely exist online but thrive.
The Heart of the Difference: Dedication, Insight, and Results
What sets SEO Agency Singapore apart isn't just its technical prowess; it's the heart and soul its team pours into every project. They understand that businesses are more than statistics; they are dreams, aspirations, and legacies.
This empathetic insight fuels their dedication, ensuring that each campaign is not just a project but a mission to elevate a business's digital presence.
Beyond Rankings: ROI-Driven Excellence and Lasting Partnerships
In the vast ocean of SEO agencies, SEO Agency Singapore stands tall, driven not by the pursuit of rankings alone, but by the tangible impact their strategies make on businesses.
Their focus is unwaveringly ROI-driven, a testament to their commitment to meaningful growth. But beyond the numbers, what truly defines them is the lasting partnerships they forge.
Every client isn't just a transaction; they are a relationship, nurtured with care and fortified by results.
The Ongoing Saga: A Future Marked by Innovation and Success
As this narrative unfolds, it's not just a reflection of the past; it's a glimpse into the future. SEO Agency Singapore continues its odyssey of innovation, exploring uncharted territories of SEO, and ushering businesses into a digital tomorrow brimming with opportunities.
For businesses seeking not just an agency but a trusted partner in their digital journey, SEO Agency Singapore isn't a choice; it's a destiny. A destiny marked by growth, excellence, and enduring success.
4. First Page Digital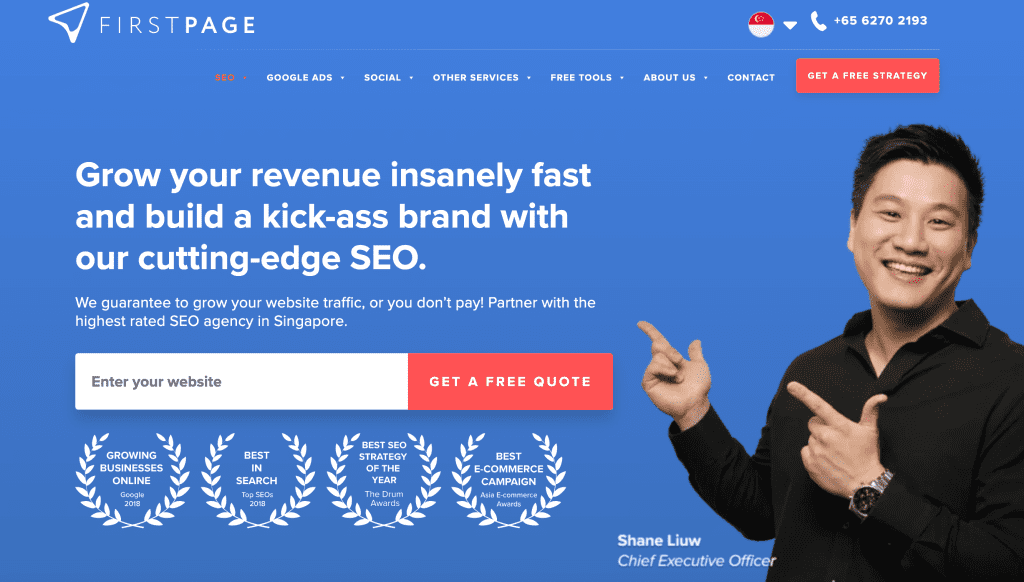 In the echelons of digital expertise, First Page stands as a beacon of innovation, stretching its influence far beyond Singapore's shores.
With a global presence that spans Singapore, Malaysia, Thailand, Hong Kong, Australia, Dubai, Panama, and Brazil, First Page offers an unparalleled digital journey for businesses seeking unparalleled success.
The agency's dynamic team, composed of strategic, technical, and creative specialists, possesses an unwavering commitment to steering businesses of all kinds towards unparalleled digital triumphs.
The Powerhouse of Expertise: First Page's Distinctive Approach
First Page's approach isn't merely about service; it's a symphony of strategic brilliance and technical acumen. Anchored right here in Singapore, their work is driven by potent in-house software.
This technological marvel empowers them to delve deep into the unique needs of their clients, facilitating the execution of meticulously tailored, data-driven campaigns that yield tangible, quantifiable results.
An Array of Services, A Multitude of Success Stories
First Page's suite of services reads like a digital epic.
From SEO and SEM to Social Media Marketing, Online Reputation Management, Content Marketing, and Creatives, every service offered is meticulously crafted to do one thing: generate those highly-coveted leads, drive sales, and amplify profits.
Their track record, boasting a remarkable >180 5-star Google reviews and 8 SEO awards, speaks volumes about their unparalleled expertise.
The First Page Promise: Results That Redefine Possibilities
At First Page, promises are not mere words; they are commitments etched in digital stone.
Their SEO services come with a unique guarantee: traffic within 90 days, or they work for free. Such confidence is rooted in their proven strategies and unparalleled support from a dream team that transcends boundaries.
Their accolades, including the coveted title of the best SEO company in Singapore as per Clutch's list of SEO agencies, are not just badges of honor; they are testaments to their unwavering dedication to transforming business goals into tangible realities.
Your Ascent to the First Page: A Reality with First Page
In the competitive landscape of business, the quest for an edge is perpetual.
At First Page, they don't just understand this; they embody it. If you're ready for your brand to ascend to the first page, not just in search results but in the minds of your audience, then you are indeed ready for First Page.
With a legacy of success and a vision that transcends borders, First Page isn't merely a choice; it's a transformative journey waiting to be embraced.
5. Heroes of Digital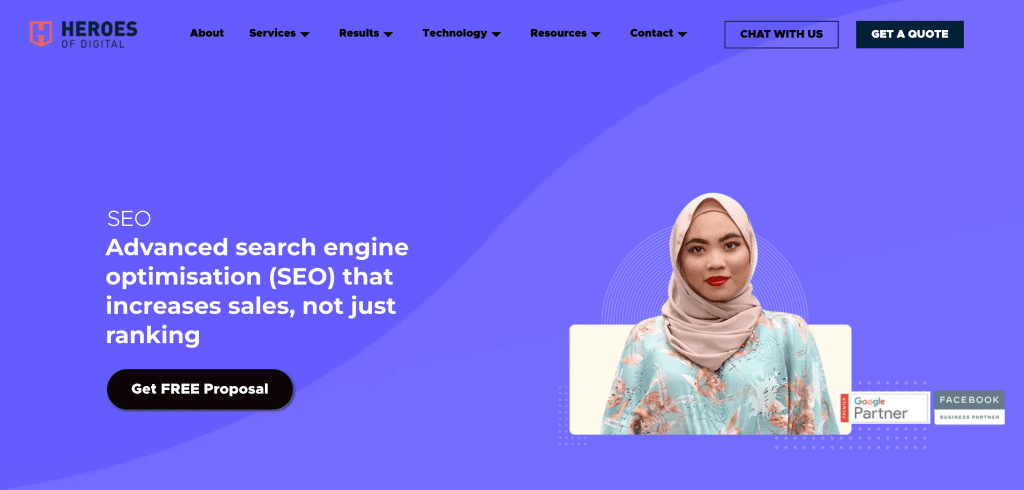 In the labyrinthine world of digital marketing, where aggressive tactics and unfulfilled promises often overshadow genuine expertise, a beacon of ethical brilliance emerged in 2015: Heroes of Digital.
Recognizing the pervasive issue of agencies exploiting unaware SMEs with their grand yet empty commitments, Heroes of Digital set forth on a transformative mission.
Revolutionizing the Landscape: A Data-Driven Integration
Their strategy was not just groundbreaking; it was revolutionary.
Heroes of Digital redefined digital marketing by fusing data-driven insights with an integrated approach, all powered by cutting-edge machine learning technology.
This unique amalgamation not only ensured optimal results but did so even within the confines of limited budgets, challenging the very notion that excellence comes with an exorbitant price tag.
The Culmination of Expertise: The Advanced SEO Strategy
Years of relentless research, rigorous testing, and hands-on implementation for over 500+ clients culminated in the birth of their advanced SEO strategy.
Their mastery over the digital realm is epitomized by their prominent rank for numerous keywords associated with social media marketing on Google Singapore.
As of now, they hold the coveted position of #1 for multiple keywords related to social media marketing, a testament to their unparalleled prowess.
Beyond Rankings: A Commitment to Maximum ROI
What sets Heroes of Digital apart is their unwavering commitment to their clients' success. Every decision made within the confines of their digital sanctuary is meticulously crafted to ensure maximum Return on Investment (ROI).
This journey commences with the identification of keywords bearing not just search volume but also buyer intent.
While most SEO companies may shy away from proposing competitive keywords, Heroes of Digital embraces the challenge.
Their fearlessness stems from their own triumphs; after all, if they can secure the top rank for their own competitive keywords, they are more than equipped to help you soar above your competitors.
In the narrative of digital marketing, Heroes of Digital doesn't just find a place; they carve an indelible mark.
Their story is not just theirs; it's a saga of businesses ascending to unprecedented heights, fueled by ethical practices, expertise, and a relentless pursuit of excellence.
With Heroes of Digital by your side, the competitive landscape isn't a battlefield; it's an arena where your victory is not just a possibility but a certainty.
6. Impossible Marketing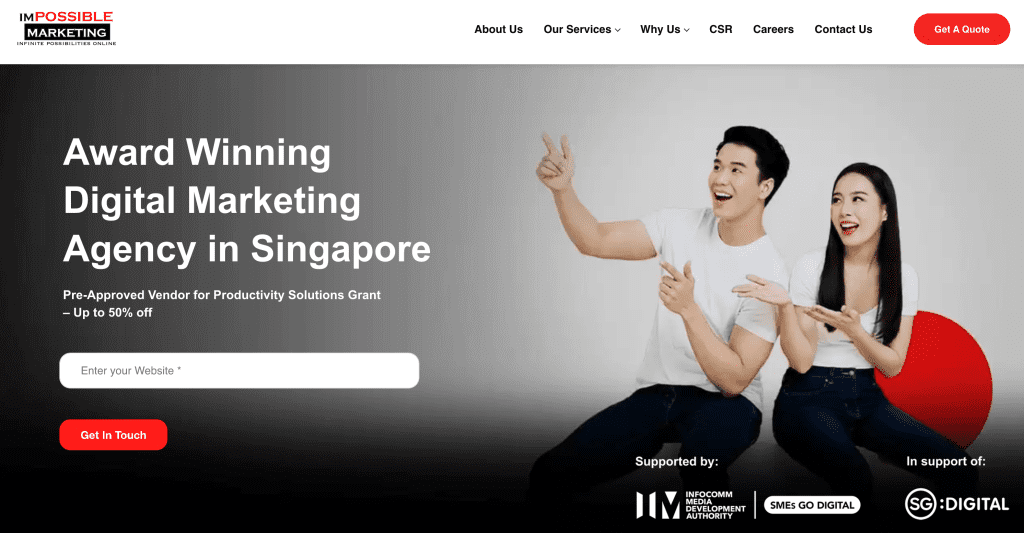 In the realm of digital marketing in Singapore, Impossible Marketing emerges as a luminary, an agency whose expertise has steered over a thousand brands toward digital prominence.
Founded on a commitment to empower the local community, this homegrown agency has etched its legacy in the sands of online success.
Local Roots, Global Impact: A Commitment to Empowering Fellow Locals
Since its inception in 2012, Impossible Marketing has been a stalwart force, aiding more than a thousand brands across diverse scales in the region.
Their commitment extends beyond mere digital marketing; it's about empowering local businesses, helping them navigate the intricate digital landscape with finesse.
With every brand they elevate, they contribute to the vibrancy of the local business ecosystem.
The Essence of Expertise: A Rigorous Approach to SEO Mastery
Impossible Marketing's prowess in the realm of SEO is not merely a result of chance; it's a product of a rigorous and meticulous process.
Their approach is a symphony of precision and strategy, carefully designed to meet the precise needs of their clients.
This approach encompasses a multifaceted regimen, including exhaustive keyword research to ensure strategic targeting, core web vitals optimization for seamless user experiences, strategic SEO implementation tailored to individual brands, bolstering web authority for credibility, vigilant performance tracking to adapt in real-time, and in-depth monthly reporting complemented by quarterly reviews.
Each step is executed with precision, ensuring that their clients don't just succeed online; they thrive.
In the narrative of digital success, Impossible Marketing doesn't just play a role; they redefine the game.
Their story is a testament to expertise, dedication, and the transformative power of strategic digital marketing.
With Impossible Marketing by their side, businesses aren't just navigating the digital landscape; they are conquering it, one strategic move at a time.
7. NightOwl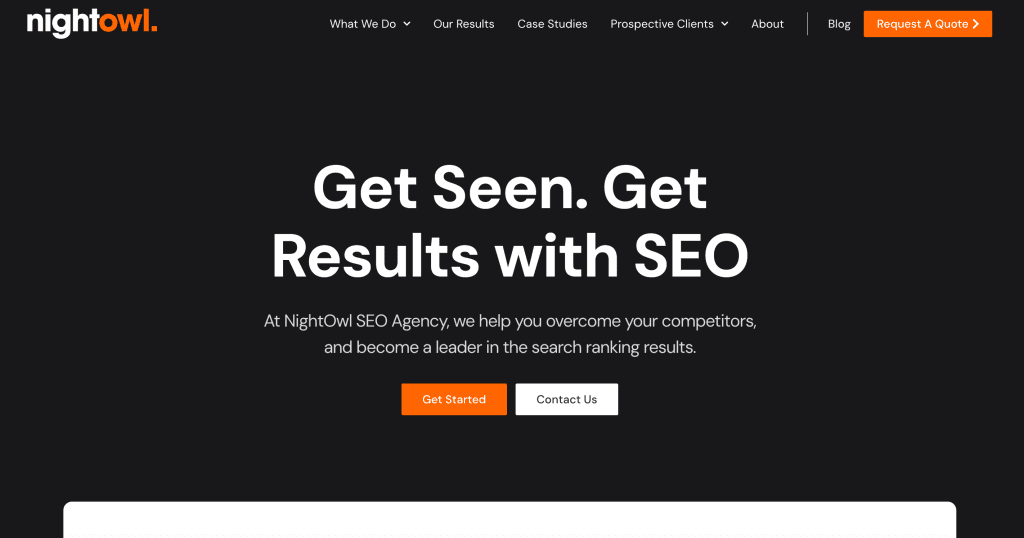 In the intricate world of digital marketing, Nightowl SEO stands as a boutique agency, a term that transcends mere size and encapsulates their focused expertise.
Their mission?
To propel clients to the pinnacle of Google rankings, catalyzing breakthroughs for businesses on a global scale.
Global Reach, Local Expertise: A Nexus of Excellence
Rooted in Singapore, Nightowl SEO's core team operates with a level of proficiency that attracts clients not just locally, but from every corner of the world.
In the era of remote work, their doors have opened wider, fostering interactions with clients and engaging talents seamlessly across borders.
This global perspective not only enriches their collaborative efforts but also offers clients a multifaceted approach to their digital needs.
Efficiency Redefined: Streamlined Processes for Unparalleled Results
Nightowl SEO thrives on efficiency.
Their streamlined processes have redefined remote collaboration, making it easier and more effective than ever before.
This modern approach not only facilitates seamless interactions with clients but also ensures a global outlook in the solutions they provide.
Every strategy, every decision is rooted in a commitment to deliver extraordinary digital results.
A Vision of Excellence: Transforming Challenges into Opportunities
When Nightowl SEO embarked on its journey in 2013, the digital marketing landscape was marred by inadequate support from service providers. Nightowl SEO aimed higher.
They envisioned a company deeply connected to its customers, a beacon of support guiding businesses to excel in their respective industries.
This vision materialized into a reality, creating an agency that not only understands its clients but continuously strives to empower them to achieve greatness.
In the tapestry of digital marketing, Nightowl SEO is not just a name; it's a testament to excellence, a narrative of transformation, and a promise of unparalleled support.
With Nightowl SEO, businesses don't just reach the top of Google; they ascend to new heights of success, guided by expertise that knows no borders.
8. PurpleClick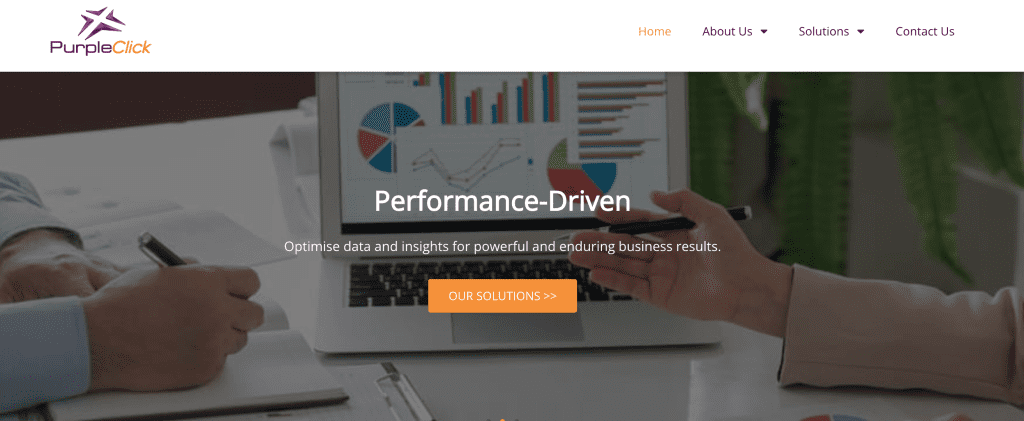 Since its inception in 2006, PurpleClick has not merely thrived in the digital arena; it has reigned supreme, accumulating a prestigious collection of over 30 industry accolades.
These honors, including coveted titles like Search Marketing Agency of the Year, Digital Agency of the Year, and Local Hero of the Year, underscore their exceptional prowess in the domain.
The Nexus of Expertise: Data-Driven Insights and Technical Proficiency
At the core of PurpleClick's triumphant journey lies a fusion of two vital elements: data-driven insights and the technical finesse of their digital consultants.
This amalgamation forms the bedrock of their success, enabling them to navigate the intricate web of digital marketing with unparalleled precision.
Continuous Vigilance: Ensuring Ongoing Efficacy
To guarantee the perpetual efficacy of their SEO strategies, PurpleClick employs dedicated client service managers.
These vigilant overseers continuously monitor and assess campaign progress using key performance indicators and signals, ensuring that every move aligns with the overarching objectives.
A Dual Approach: Immediate Gains and Lasting Advantages
While addressing short-term objectives, such as amplifying website traffic, clicks, subscriptions, and search rankings, PurpleClick doesn't merely stop at momentary victories.
They meticulously lay the groundwork for enduring advantages, such as elevating domain authority and cementing brand recognition.
Every strategy employed is a testament to their commitment to not just immediate gains but also to building a robust foundation for enduring success.
In the realm of digital marketing, PurpleClick isn't just a service provider; it's an architect of triumphs, crafting narratives of digital excellence for every client it touches.
With PurpleClick, every investment isn't just a transaction; it's a partnership, a meticulous journey toward sustained digital eminence.
Conclusion
In the ever-evolving landscape of digital marketing, the role of SEO agencies has become paramount, shaping the online destinies of businesses in profound ways.
As we conclude our exploration of the "Top 8 SEO Agencies in Singapore for 2023," we find ourselves immersed in a world where expertise meets innovation, and results are not just expected but guaranteed.
Our journey through these agencies has been a testament to the dynamic nature of the digital realm.
Each agency featured in our list isn't just a service provider; it's an embodiment of excellence, a beacon guiding businesses through the intricacies of SEO mastery.
As Singapore's digital landscape continues to expand and diversify, these agencies stand at the forefront, shaping the very fabric of online success stories.
In 2023, the SEO landscape is a vibrant tapestry of cutting-edge technologies and strategic brilliance.
Machine learning algorithms, voice search optimization, mobile-first indexing, and user experience enhancements have become more than just buzzwords; they are the tools reshaping how businesses interact with their audience.
The agencies on our list aren't just keeping up with these trends; they are setting the benchmarks, pioneering methodologies that others aspire to emulate.
The essence of our exploration went far beyond mere rankings on search engine result pages.
Each agency showcased a comprehensive approach to digital strategies.
From meticulous keyword research and content optimization to technical SEO audits and local SEO dominance, these agencies leave no stone unturned.
They understand that SEO isn't a singular endeavor; it's a holistic strategy that encompasses the entirety of a brand's online presence.
One common thread unites these agencies: their commitment to empowering businesses. They aren't just driving traffic; they are catalyzing conversions, nurturing engagements, and fostering brand loyalty.
Their expertise isn't confined to SEO metrics; it transcends into the realm of business growth, ensuring that every digital effort translates into tangible results.
In the face of ever-changing search engine algorithms and consumer behaviors, adaptability is the cornerstone of success.
The agencies featured here aren't just adaptable; they are resilient.
They have weathered digital storms, adapted to shifts, and emerged stronger, armed with insights that transform challenges into opportunities.
As a reader, your digital odyssey begins here.
Armed with the knowledge of Singapore's top SEO agencies, you are not just an observer; you are an informed decision-maker.
Whether you're a startup aiming to establish your online presence, an established enterprise seeking a revamp, or a marketing enthusiast intrigued by the nuances of digital strategies, this knowledge empowers you.
In closing, we find ourselves standing at the threshold of a future defined by digital brilliance.
The agencies listed here aren't just shaping the present; they are architects of the digital future.
Their expertise, their strategies, and their unwavering commitment to excellence are not just markers of today's success stories; they are blueprints for tomorrow's triumphs.
As you embark on your digital endeavors, remember this: the world of SEO is more than just keywords and backlinks; it's a universe of possibilities waiting to be explored.
The top SEO agencies in Singapore are not just guides; they are partners in your digital odyssey.
May your journey be marked by growth, your strategies be illuminated by insights, and your online presence be defined by excellence. Here's to a future where your digital dreams don't just take flight; they soar to unprecedented heights.
Safe travels in your digital odyssey, and may success be your constant companion.
If you are looking for a top-class SEO marketer, then book a free consultation slot here.
If you find this article useful, why not share it with your friends and business partners, and also leave a nice comment below?
We, at the AppLabx Research Team, strive to bring the latest and most meaningful data, guides, and statistics to your doorstep.
To get access to top-quality guides, click over to the AppLabx Blog.
Looking to boost your website's traffic in 2023? Explore our latest blog post on the top WordPress SEO plugins to supercharge your website's performance and visibility.
People also ask
How much does SEO cost in Singapore?
SEO costs in Singapore vary based on the scope of services, competition, and agency expertise. On average, monthly SEO services for small to medium businesses can range from SGD 800 to SGD 2500. Enterprises with complex needs may invest SGD 3000 or more monthly. Customized plans offer flexibility.
Who is the best SEO service provider?
Determining the "best" SEO service provider depends on specific needs. Agencies like AppLabx, Nightowl, and OOm in Singapore have garnered acclaim for their expertise. Research and consultations are key to finding the best fit tailored to individual requirements.
What is SEO in Singapore?
In Singapore, SEO (Search Engine Optimization) refers to the strategic process of enhancing a website's visibility on search engines like Google. It involves optimizing content, keywords, and technical aspects to rank higher, attract organic traffic, and boost online presence for businesses in the competitive Singaporean market. Effective SEO practices are vital for digital success in the country.