Key Takeaways
Elevate Your SEO Game: Discover the top WordPress SEO plugins for 2023 and supercharge your website's search engine rankings.
Streamlined SEO Solutions: These plugins simplify SEO tasks, from content optimization to analytics, ensuring your site stays ahead in the competitive digital arena.
Future-Proof Your Website: Stay at the forefront of SEO trends and techniques by harnessing the power of these plugins to boost your site's traffic and visibility in 2023.
---
In the ever-evolving landscape of digital marketing, the journey to online success is paved with constant change and innovation.
As a savvy digital marketing agency based in Singapore, you understand that staying ahead of the curve is paramount to ensuring that your clients' websites not only survive but thrive in the competitive online arena.
In the quest for higher rankings, increased organic traffic, and enhanced user experiences, there's one indispensable tool in your arsenal: WordPress.
WordPress has long been the preferred platform for website creation and content management, celebrated for its user-friendly interface, flexibility, and a vibrant community of developers.
Yet, even the most beautifully designed and expertly crafted websites can fall short if they don't harness the immense power of Search Engine Optimization (SEO).
In the digital era, SEO isn't just a nice-to-have; it's the linchpin of online visibility, the compass guiding users to your virtual doorstep.
However, the SEO landscape isn't static. Search engines like Google continually refine their algorithms, and user expectations are higher than ever. What worked yesterday may not yield the same results tomorrow.
Therefore, staying on the cutting edge of SEO is no longer optional; it's essential for businesses that seek to dominate their digital niches.
Enter 2023 – a year brimming with new opportunities, fresh challenges, and, most importantly, a slew of innovative WordPress SEO plugins poised to revolutionize your digital marketing strategy.
These plugins are the magic wands in your digital marketing toolkit, each wielding unique spells to propel your website's rankings, drive traffic, and deliver outstanding user experiences.
Also, read our introductory guide on "SEO Plugin for WordPress: The Ultimate Guide to Choosing the Best One" to learn how to choose the right SEO plugin for your WordPress website.
In this comprehensive guide, we will embark on a journey through the realm of WordPress SEO plugins. We'll unveil the seven most potent tools at your disposal, each handpicked to supercharge your website's SEO performance and skyrocket your traffic in 2023.
Whether you're a seasoned digital marketing veteran or just beginning your journey into the intricacies of SEO, this article will serve as your treasure map to the goldmine of WordPress SEO plugins.
Before we delve into this SEO adventure, it's essential to grasp why these plugins are more critical now than ever before.
The digital landscape has witnessed seismic shifts, and your website's visibility is inextricably linked to how well you optimize for search engines.
Competition is fierce, and with millions of websites vying for user attention, your site's SEO prowess is the compass that guides the masses to your virtual doorstep.
Imagine your website as a gemstone, buried deep within the digital earth.
WordPress SEO plugins are the miners' tools, allowing you to unearth, polish, and proudly display your precious gem to the world. Whether you're a blogger seeking a broader audience, an e-commerce entrepreneur looking to boost sales, or a business striving for local dominance, these plugins will be your trusted companions on this exciting journey.
In the pages that follow, we will introduce you to the seven WordPress SEO plugins that have earned their place at the forefront of 2023's digital marketing arena. You'll discover how these plugins work their magic, turning your website into a beacon of relevance and authority in the eyes of search engines.
But first, let's embark on a journey of understanding, exploring why SEO remains an unassailable pillar of digital marketing, why WordPress is the chosen platform, and how these plugins will redefine the way you approach SEO in the years to come.
Buckle up; your quest for SEO supremacy in 2023 begins now.
Before we write more about this article, we like to share who we are.
About AppLabx
From developing a solid marketing plan on the web to creating compelling content on your website, optimizing for search engines, leveraging social media, and utilizing paid advertising on your website, AppLabx offers a comprehensive suite of digital marketing services on your website designed to drive growth and profitability for your business.
AppLabx is well known for helping companies and startups use website marketing to drive web traffic to their websites and web apps.
At AppLabx, we understand that no two businesses are alike. That's why we take a personalized approach to every project, working closely with our clients to understand their unique needs and goals, and developing customized strategies to help them achieve success.
If you need a digital consultation, then send in an inquiry here.
7 Top WordPress SEO Plugins to Boost Your Website Traffic in 2023 (Latest)
1. Yoast SEO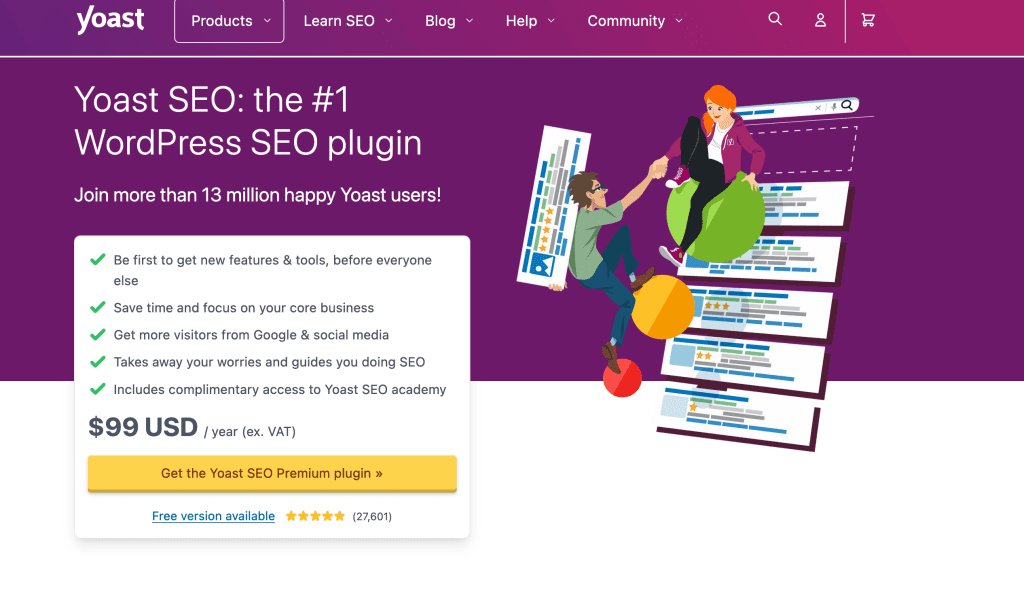 Yoast SEO, a renowned WordPress SEO plugin, empowers website administrators to optimize their WordPress platforms with precision for search engine performance.
This robust tool simplifies the incorporation of SEO titles and descriptions into every post and page, thereby fortifying the website's discoverability and engagement potential.
Moreover, Yoast SEO facilitates the seamless addition of Open Graph metadata and social media imagery to augment the visual appeal of articles.
One of its standout features is the automatic generation of an XML sitemap, encompassing all website content. This sitemap serves as a navigational guide for search engines, enhancing their ability to comprehensively index the website's content. Furthermore, transitioning from another SEO plugin becomes effortless, as Yoast SEO offers a streamlined process for importing existing SEO data.
Beyond these fundamental capabilities, Yoast SEO delivers advanced functionalities such as readability analysis, Google and social media previews. These features contribute to optimizing the website's appeal both in terms of search engine ranking and user experience by improving loading times.
For a comprehensive walkthrough on the installation and configuration of the Yoast SEO plugin within the WordPress framework, consult our detailed guide, which provides in-depth insights and practical steps.
2. RankMath SEO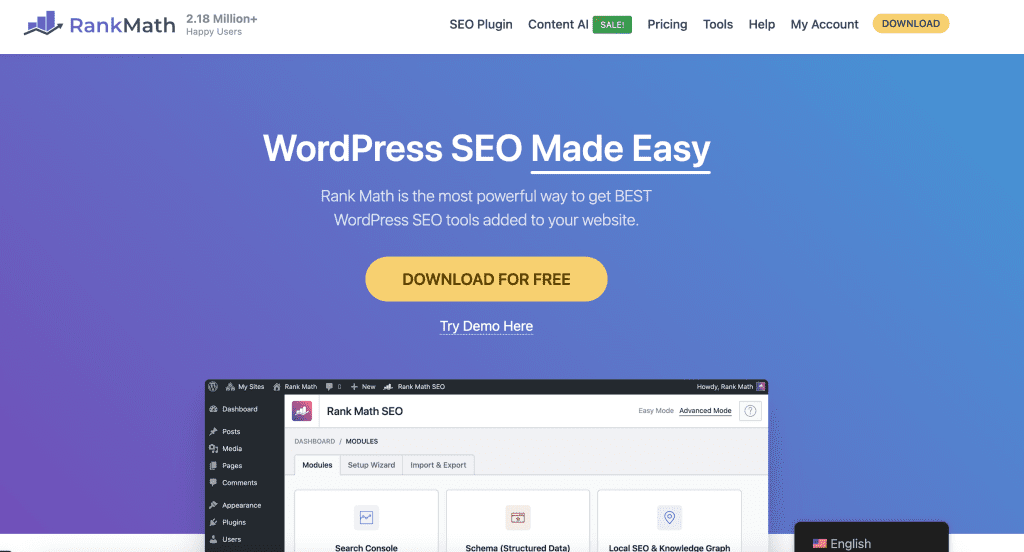 Rank Math distinguishes itself through a multifaceted suite of features that revolutionize the SEO landscape, offering real-time insights that empower content creators to optimize their posts on the fly.
As a beacon of user-friendly functionality, this plugin presents a comprehensive SEO data dashboard within your WordPress environment, unveiling critical metrics such as keyword rankings, search impressions, and invaluable error notifications identified by Google.
Uniquely, Rank Math is engineered with speed optimization in mind, ensuring a seamless performance that won't burden your website's load times. It's a harmonious blend of power and efficiency, providing robust SEO capabilities without compromising on user experience.
Moreover, Rank Math extends its reach with profound integration into the Divi framework, granting users access to potent SEO features seamlessly woven into Divi's intuitive visual builder. This synergy unlocks a world of creative possibilities for website owners seeking to elevate their SEO game.
Key Features of Rank Math:
Google Search Console Integration: A direct pipeline connecting your WordPress dashboard to Google Search Console, streamlining the acquisition of SEO insights.
Snippet Preview: Precision in optimizing titles and metadata, eliminating errors that may plague your appearance on Search Engine Results Pages (SERPs).
Comprehensive Toolkit: Beyond the basics, Rank Math offers a comprehensive toolkit for 404 monitoring, link building, redirection management, local and WooCommerce SEO enhancements, sitemap generation, and more, consolidating essential SEO functions into one cohesive platform.
Seamless Divi Integration: Seamlessly synchronizes with the Divi Theme, enhancing its capabilities and unleashing a world of SEO potential.
Rank Math is tailor-made for individuals or small teams who wear multiple hats, taking on the roles of content creation, SEO management, and the guardianship of their site's overall health.
If you find yourself juggling multiple SEO plugins but yearn for a more streamlined solution, or if you're a Divi enthusiast seeking to amplify your site's SEO performance, Rank Math stands as your ideal companion.
Pricing for Rank Math offers both a free version and premium plans, starting at just $5.75 per month. With this cost-effective pricing structure, you can access the full spectrum of Rank Math's capabilities and take a giant stride towards SEO excellence.
3. All In One SEO (AIOSEO)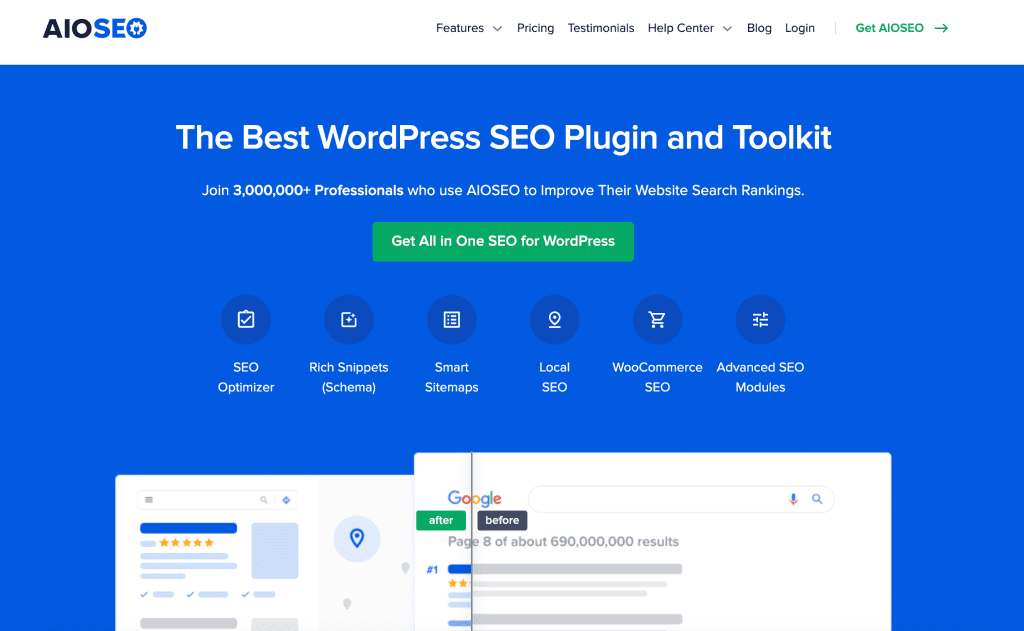 The All in One SEO (AIOSEO) plugin is a pivotal tool designed primarily to elevate on-page SEO performance, making it an invaluable asset, particularly for local small businesses with a high dependence on search engine visibility.
This dynamic plugin conducts a comprehensive analysis of your entire website, meticulously identifying errors and providing actionable recommendations to enhance your SEO strategies.
AIOSEO doesn't merely stop at diagnostics; it empowers website owners by equipping them with the tools to effect meaningful improvements. Through its seamless sitemaps generation, this plugin optimizes your website's presence across the digital spectrum, ensuring its discoverability remains steadfast, regardless of the search engine in use.
Key Features of AIOSEO:
SEO Audit Checklist: A meticulous checklist that dissects your site's SEO standing, revealing areas for enhancement.
Guided Recommendations: Actionable recommendations thoughtfully curated to steer your SEO efforts towards excellence.
Sitemap Generation: Efficiently generates sitemaps and facilitates their submission to various search engines, enhancing your website's crawlability and indexability.
AIOSEO Finds Its Ideal User in:
Local or Small Business Owners: Particularly those with a pronounced focus on on-page SEO optimization, seeking to elevate their digital footprint.
Companies Banking on Online Searches: Especially those with a strong emphasis on local search visibility, recognizing the pivotal role of SEO in their online success.
For those seeking to fortify their digital presence through AIOSEO, pricing options are flexible, encompassing a free version for starters and premium plans commencing at an accessible $49.60 per year. With AIOSEO in your arsenal, you're not just navigating the digital landscape; you're conquering it, one optimized page at a time.
4. SEOPress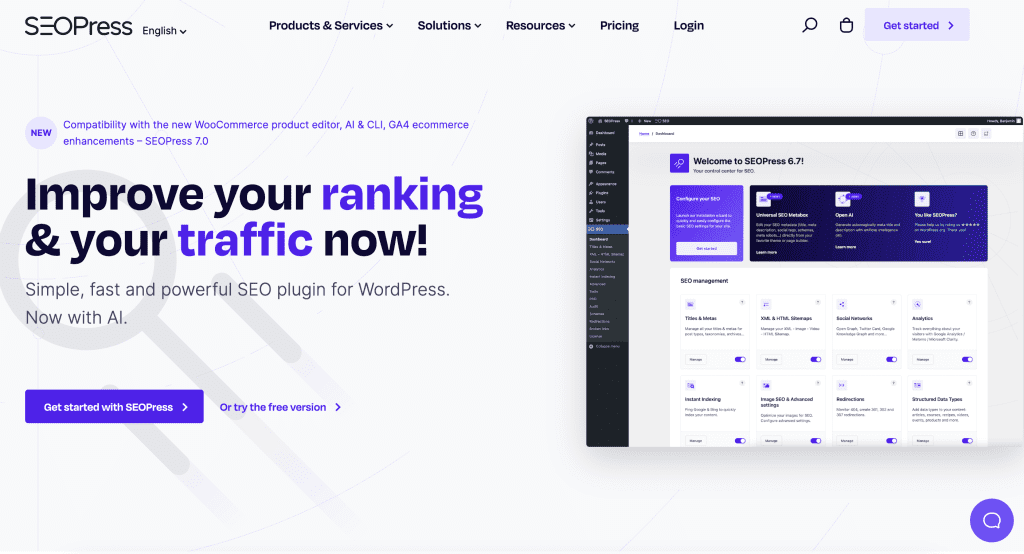 SEO Press presents a robust WordPress plugin, available for free, that encompasses a comprehensive array of indispensable tools aimed at bolstering the SEO performance of your WordPress website.
This all-encompassing solution equips you to fine-tune meta titles and descriptions, effortlessly generate both XML and HTML sitemaps, harness the analytical prowess of Google Analytics to track your site's visitors, and optimize your social media footprint, among other pivotal features.
Key Features of SEO Press:
Meta Titles and Descriptions Management: Exert precise control over meta titles and descriptions, ensuring your content aligns perfectly with your SEO strategy.
Sitemap Generation: Seamlessly generate XML and HTML sitemaps, elevating your website's discoverability and search engine indexing.
Google Analytics Integration: Forge an invaluable connection with Google Analytics, enabling meticulous visitor tracking and data-driven insights.
Social Media Optimization: Enhance your social media presence, ensuring your content resonates effectively across various platforms.
However, for those seeking to ascend to the next level of SEO excellence, SEO Press Pro beckons with its advanced features tailored for optimizing business WordPress sites.
This premium plan encompasses WooCommerce SEO configuration, precision targeting of local audiences, the generation of specialized video and news XML sitemaps, robust redirect management, proactive broken link detection, and vigilant monitoring of 404 errors.
Additionally, the Pro plan extends the convenience of installing the plugin across an unlimited number of sites and includes one year of dedicated support.
SEO Press is Your Ideal Companion If:
You're in search of an all-inclusive SEO solution that seamlessly integrates into your WordPress environment.
You seek a plugin that streamlines SEO management across multiple websites, delivering consistent results.
Pricing for SEO Press offers flexibility, with a free version providing essential tools for beginners and a Pro plan available at a reasonable $49, affording access to advanced features and premium support. With SEO Press, you're not merely optimizing; you're orchestrating a symphony of SEO mastery across your digital domain.
5. The SEO Framework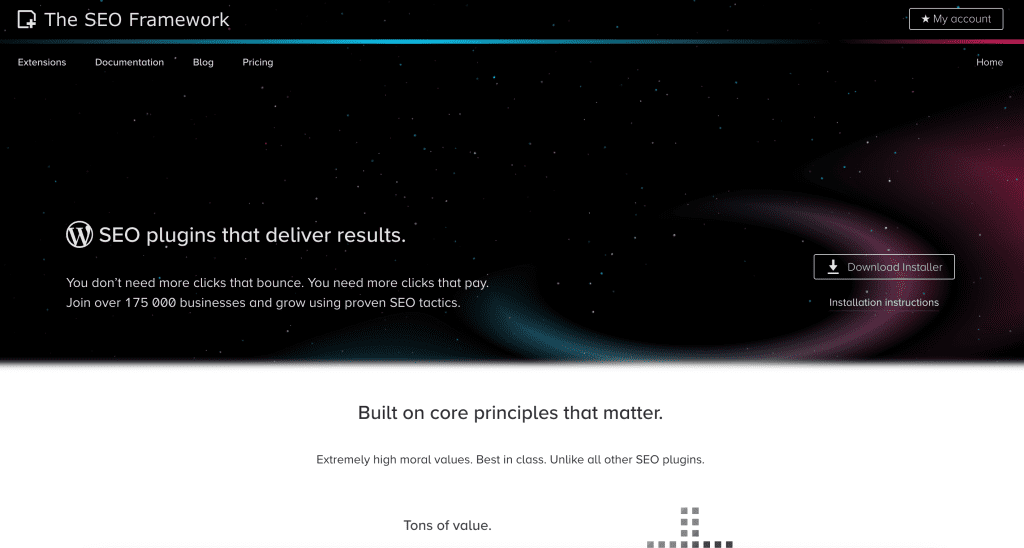 The SEO Framework plugin emerges as a formidable force in the realm of SEO-enhancing tools, distinguished by its multifaceted capabilities and a remarkable emphasis on automation.
This potent plugin transcends the ordinary by offering a suite of features that not only enhance your website's SEO but also ensure the perpetuation of lightning-fast loading speeds, a crucial aspect of user experience.
What truly sets The SEO Framework apart is its ability to provide SEO ratings, a real-time assessment of your content's performance, juxtaposed with that of your competitors.
This feature empowers you with invaluable insights into how well your pages fare in the ever-evolving landscape of search engine rankings. Moreover, it accomplishes this while maintaining the integrity of your website's speed, thus delivering a holistic SEO solution.
The plugin's extension manager is an additional gem in its repertoire, elevating its functionality to greater heights. With this companion plugin, you gain access to a plethora of tools, including keyword and synonym guidance for content creation, automatic incorporation of schema markup and structured data into your articles, and an array of other indispensable features.
Key Features of The SEO Framework:
Synonymous Keyword Targeting: A strategic approach that aligns your content with how search engine results pages (SERPs) analyze content, expanding your SEO reach.
Color-Coded Content Optimization Scale: A visual indicator offering a clear understanding of how closely your content aligns with optimization standards.
Plugin Extensions: An array of extensions to augment the plugin's functionality, encompassing areas like local SEO and efficient spam comment caching.
Custom Social Sharing Support: A built-in mechanism to facilitate customized social sharing of your content, enhancing its reach and visibility.
The SEO Framework Serves You Well If:
You're venturing into the realm of SEO-optimized content creation and are in search of a user-friendly tool to aid your journey.
You're tired of the often-awkward process of keyword insertion and aspire to craft content more organically and naturally.
You seek an automated solution that swiftly identifies SEO errors and streamlines the optimization process, sparing you from manual intervention.
Pricing for The SEO Framework is enticingly accessible, offering a free version brimming with essential features that cater to the needs of beginners and seasoned SEO enthusiasts alike. With The SEO Framework, you're not just optimizing; you're automating excellence in the world of SEO.
6. SEO Plugin by Squirrly SEO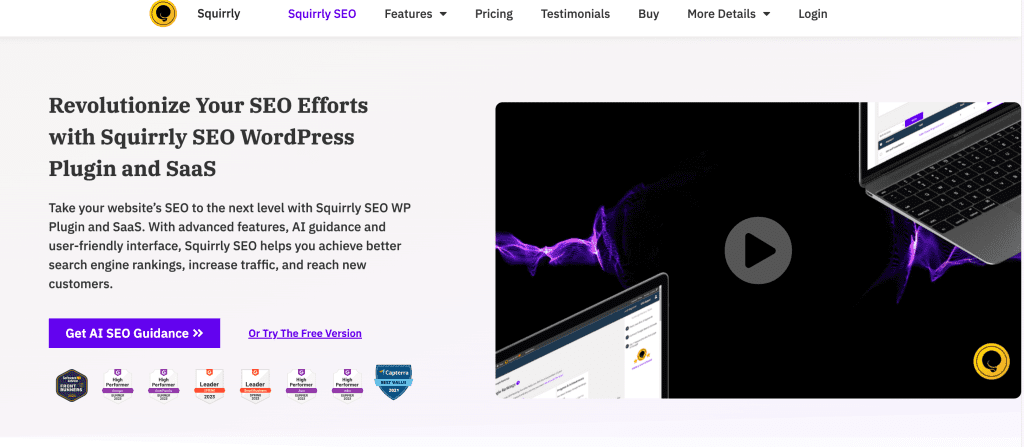 Squirrly SEO stands tall as a premier WordPress plugin, ideally suited for large websites that experience high traffic volumes and boast an abundance of unique content. Powered by cutting-edge AI technology and housed within an intuitively designed dashboard, this plugin offers an invaluable toolkit, presenting users with a meticulous checklist to elevate their WordPress site's SEO prowess, encompassing critical elements ranging from backlinks to domain authority.
One of the standout features that set Squirrly SEO apart is its comprehensive keyword tracking and analytics tools. These tools grant users an unprecedented level of insight into the performance of their chosen keywords, ushering in a new era of data-driven SEO strategies. With additional perks like local business schema implementation and seamless Google Earth integration, this WordPress plugin emerges as a potent ally for fortifying local SEO initiatives.
While the free version of Squirrly SEO is notably robust, offering a considerable array of SEO features, premium plans elevate the experience with advanced functionalities. These premium tiers are as follows:
Pro – Offering the capacity to track up to 100 keywords each month, available at an accessible $29.99 per month.
Business – Enabling tracking of up to 300 keywords monthly, priced at $71.99 per month.
Agency – Catering to the needs of power users, this tier facilitates tracking of up to 500 keywords monthly, with a monthly subscription cost of $75.99.
Key Features of Squirrly SEO:
SEO Progress and Achievements: Showcase your top-performing pages and Google rankings, offering a clear snapshot of your SEO victories.
Duplicate Removal Tool: A handy utility for eliminating duplicate meta descriptions and titles, addressing issues that may hamper your SEO rankings.
Bulk SEO: Empower yourself to make sweeping SEO changes with ease, simultaneously modifying multiple meta descriptions, titles, visibility settings, open graph, and Twitter cards.
Squirrly SEO is Your Ideal Choice If:
You oversee a large website with substantial traffic and seek a comprehensive SEO solution to manage your expansive digital presence.
You value the precision of keyword tracking and analytics in crafting data-driven SEO strategies.
You aim to enhance your local SEO strategies, leveraging features like local business schema and Google Earth integration to your advantage.
Squirrly SEO's pricing structure caters to a diverse range of users, ensuring that both beginners and seasoned SEO professionals have access to its wealth of features. With Squirrly SEO, you're not just optimizing; you're mastering the art of SEO, one keyword at a time.
7. SmartCrawl SEO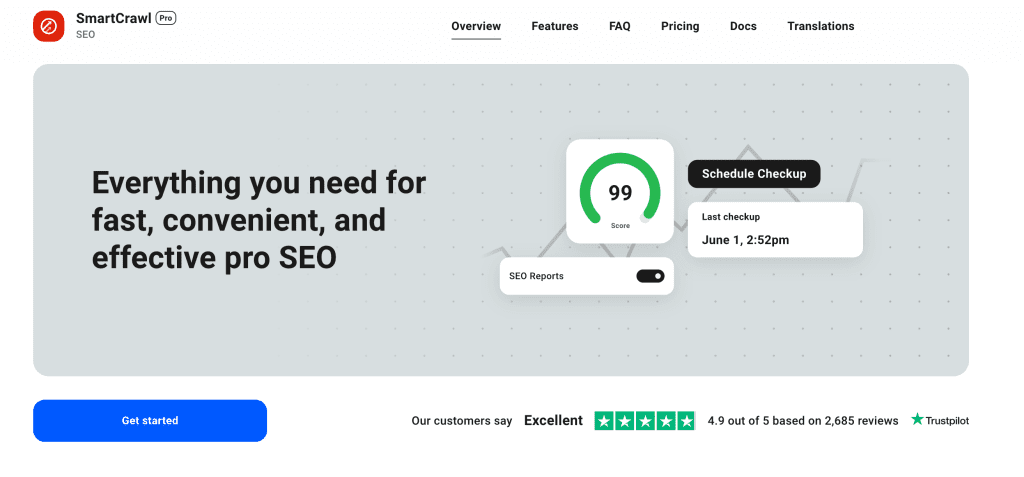 If your quest for the finest SEO plugin for WordPress is unwavering, SmartCrawl beckons as the definitive contender. Gone are the days of navigating labyrinthine settings, making educated guesses, and harboring doubts about the adequacy of your SEO optimization efforts. SmartCrawl's transformative capabilities rest at your fingertips, offering an array of features designed to streamline and elevate your SEO game.
Within the realm of SmartCrawl, the one-click setup wizard stands as a beacon of convenience, enabling the activation of settings that expand your online reach. Say farewell to the realm of guesswork and uncertainties.
SmartCrawl's SEO Tools for WordPress Encompass:
One-Click Setup Wizard: An intuitive solution that empowers you to boost your online presence with precision, eliminating the need for conjecture.
SEO Checkup & Reports: A diagnostic tool that runs comprehensive checkups on your site, offering detailed recommendations for enhancing your SEO strategies.
Titles & Meta Descriptions: The ability to customize the appearance of your meta titles and meta descriptions on search engine result pages, ensuring maximum visibility and appeal.
Leveraging Social Media: SmartCrawl integrates seamlessly with social media platforms, incorporating Open Graph, Twitter card, and Pinterest verification. It extends its appreciation to users who share your posts.
Sitemap Generator: A flexible tool that allows you to select specific post types, archives, and taxonomies to include or exclude from your XML sitemap.
Smart Page Analyzer: This built-in SEO checker scans your pages and posts for readability and keyword density, offering actionable suggestions for content optimization.
SEO Crawl: SmartCrawl notifies Google every time new content is added to your site, prompting re-crawls and ensuring that your fresh material is promptly indexed.
Schema Markup Support: Simplify search engine comprehension of your content's meaning through schema markup support.
Schema Types Builder: Customize a range of schema markup types to enhance your site's SEO performance.
301 Redirect: SmartCrawl facilitates seamless traffic redirection from one URL to another, safeguarding your hard-earned work and capitalizing on high-performing links.
Breadcrumbs: Effortlessly implement breadcrumb navigation on posts and pages, enhancing both SEO and user experience.
Integration With Moz SEO Tools: If you're already utilizing Moz, SmartCrawl offers seamless integration, enabling you to access Moz reports and comparative analyses, including rank and links.
Quick Setup Import/Export: Expedite the process of propagating your customized SmartCrawl SEO settings across multiple sites through the included import feature.
In the pursuit of excellence, SmartCrawl leaves no stone unturned. It empowers you with the tools and insights needed to ascend the ranks of your preferred search engines, from Google to Bing. SmartCrawl is the answer to your quest for unparalleled SEO prowess.
Conclusion
In the ever-evolving digital landscape of 2023, where websites vie for a coveted spot on the first page of search engine results, the role of SEO has never been more critical. The seven formidable WordPress SEO plugins we've explored in this comprehensive guide stand as the sentinels of your website's success. As we conclude our journey through this intricate digital terrain, it's crucial to reflect upon the profound impact these plugins can have on your website's traffic, visibility, and overall performance.
Yoast SEO: This stalwart offers a comprehensive toolkit for optimizing content, ensuring that your posts and pages are finely tuned for SEO excellence. Its integration with WordPress makes it an indispensable asset for content creators seeking to dominate the SERPs.
Rank Math SEO: Rank Math is a powerhouse, known for its real-time insights, schema markup, and superior SEO capabilities. It's a versatile tool that's perfectly suited for both beginners and seasoned SEO professionals.
All in One SEO Pack: Ideal for local businesses, this plugin simplifies SEO optimization while providing essential features like sitemaps and social media integration. It's a handy companion for those starting their SEO journey.
SEOPress: SEOPress boasts advanced features like content analysis and AI-driven improvements. It's a favorite among those looking to take their SEO game to the next level and achieve an edge in the competitive digital landscape.
The SEO Framework: Renowned for its automation and keyword tracking, this plugin is a boon for large websites with high traffic. It simplifies complex SEO tasks, making them accessible to a broad range of users.
Squirrly SEO: A game-changer for websites with extensive content, Squirrly SEO combines AI technology with user-friendly features. It's perfect for those who crave in-depth keyword tracking and advanced SEO insights.
SmartCrawl: SmartCrawl is synonymous with precision and convenience. With features like one-click setup and real-time analysis, it's a remarkable choice for those who desire a hassle-free SEO experience.
As you embark on your SEO journey in 2023, remember that each of these plugins possesses unique strengths tailored to diverse needs and preferences. The choice of the right plugin hinges on your website's goals, your level of expertise, and the depth of SEO sophistication you seek to achieve.
But beyond the individual plugins, it's essential to recognize the broader significance of SEO in your digital strategy. In a world where the internet is a vast marketplace, and search engines are the gatekeepers, SEO is the key that unlocks success. It's the compass that guides users to your doorstep, the spotlight that illuminates your content, and the voice that ensures your website is heard amidst the digital cacophony.
In 2023 and beyond, SEO isn't merely a tool; it's a strategic imperative. It's the difference between languishing in obscurity and basking in the limelight of digital glory. It's the force that propels your website to the top of the search rankings, attracting organic traffic, nurturing leads, and fueling your online success.
So, as you delve into the world of WordPress SEO plugins, armed with the knowledge and insights gleaned from this guide, remember that you're not just choosing tools; you're sculpting your digital destiny. Whether you're a solo blogger, an e-commerce mogul, or a business striving for local dominance, these plugins are your trusted companions on the path to SEO mastery.
In closing, let 2023 be the year you seize the reins of SEO excellence, harnessing the power of WordPress and these top-notch plugins to elevate your website's traffic, visibility, and overall impact. Your digital journey begins now, and with the right tools and strategies at your disposal, there's no summit too high, no challenge too great. It's time to conquer the digital realm and make 2023 the year your website soars to unprecedented heights of success.
If you are looking for a top-class digital marketer, then book a free consultation slot here.
If you find this article useful, why not share it with your friends and business partners, and also leave a nice comment below?
We, at the AppLabx Research Team, strive to bring the latest and most meaningful data, guides, and statistics to your doorstep.
To get access to top-quality guides, click over to the AppLabx Blog.