Key Takeaways
Optimized Designs for Singapore: Explore E-Commerce WordPress themes tailored for Singaporean businesses, ensuring culturally relevant designs and seamless user experiences.
Mobile-Friendly & Multilingual: Discover themes optimized for mobile devices, crucial for Singapore's tech-savvy consumers, and supporting multiple languages to cater to the diverse local market.
Enhanced SEO & Payment Integration: Elevate your online visibility with SEO-friendly themes while offering secure payment options tailored to Singaporean preferences, ensuring a competitive edge in the market.
---
In the bustling digital landscape of 2023, where the heartbeat of Singaporean commerce resonates through the internet, having a compelling online presence is not just a choice but a strategic necessity.
As businesses across Singapore strive to carve their niche in the competitive market, the significance of an aesthetically appealing, functional, and user-friendly website cannot be overstated.
At the core of this digital evolution lies the selection of the right e-commerce platform — a decision that can significantly impact a business's online trajectory.
In this era of limitless possibilities, WordPress has emerged as the go-to platform for businesses, offering unparalleled versatility, customization, and scalability.
Now, within the vast WordPress ecosystem, the role of themes stands out as pivotal.
A theme is not just a design element; it's the face of your online storefront, the first impression that captivates your audience or leaves them scrolling away.
But amid the myriad options available, finding the perfect WordPress theme tailored explicitly for Singaporean businesses is akin to finding a gem in a treasure trove.
Your chosen theme can influence user experience, SEO performance, and ultimately, your bottom line.
As the digital winds shift and trends evolve, staying ahead of the curve is not merely an advantage — it's a necessity.
Hence, in this comprehensive guide, we delve deep into the virtual realm to curate a list of the "Top 7 E-commerce WordPress Themes Tailored for Singaporean Businesses in 2023."
Beyond the mere aesthetics, these themes are meticulously chosen to align seamlessly with the unique demands and intricacies of the Singaporean market.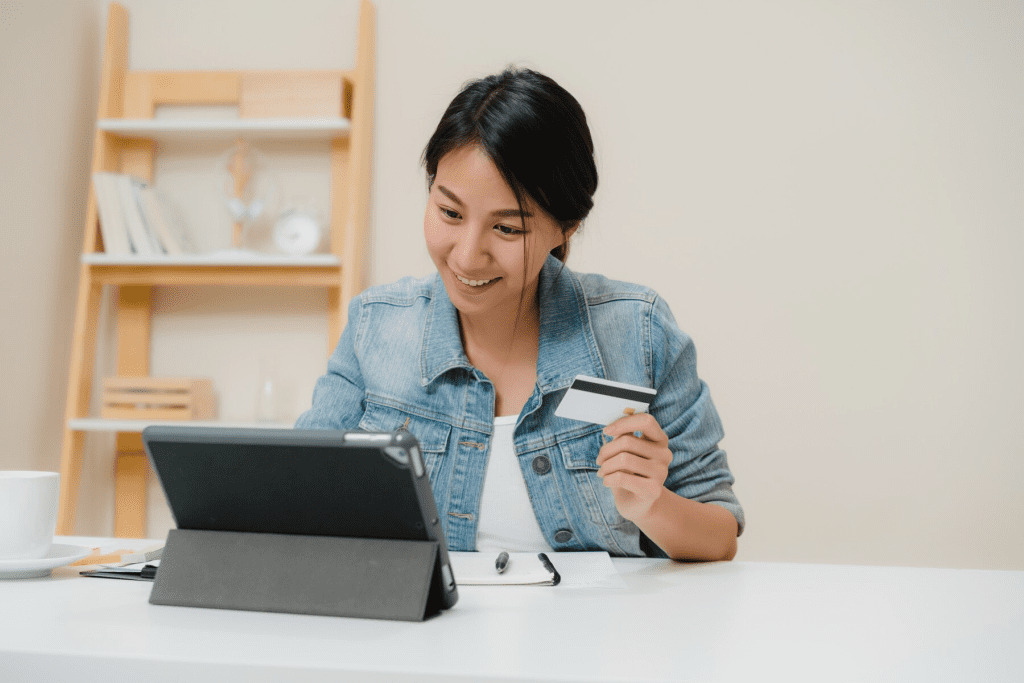 From the vibrant streets of Chinatown to the upscale elegance of Orchard Road, Singapore's diverse business landscape demands websites that mirror this diversity.
Whether you are a budding entrepreneur venturing into e-commerce for the first time or an established enterprise aiming to revamp your digital storefront, our curated selection is poised to cater to your needs.
In the pages that follow, we embark on a virtual journey through these handpicked themes, dissecting their features, exploring their functionalities, and unravelling the ways they can elevate your online presence.
We understand that in the fast-paced digital sphere, time is of the essence.
Hence, our goal is not just to inundate you with themes but to empower you with knowledge — knowledge that enables you to make an informed decision, a decision that can potentially transform your digital footprint.
So, fasten your seatbelts and get ready to explore the crème de la crème of WordPress themes.
Each theme on our list is not merely a set of codes and designs; it's a gateway to a digital future where your Singaporean business thrives, captivates, and conquers.
Let's embark on this enlightening journey together, as we unravel the secrets of the "Top 7 E-Commerce WordPress Themes Tailored for Singaporean Businesses in 2023."
Your digital adventure begins now.
But, before we venture further, we like to share who we are and what we do.
About AppLabx
From developing a solid marketing plan to creating compelling content, optimizing for search engines, leveraging social media, and utilizing paid advertising, AppLabx offers a comprehensive suite of website development services designed to drive growth and profitability for your business.
AppLabx is well known for helping companies and startups build top-class WordPress Websites.
At AppLabx, we understand that no two businesses are alike. That's why we take a personalized approach to every project, working closely with our clients to understand their unique needs and goals, and developing customized strategies to help them achieve success.
If you need a digital consultation, then send in an inquiry here.
Top 7 E-commerce WordPress Themes Tailored for Singaporean Businesses in 2023
1. Flatsome
In the realm of E-Commerce WordPress themes, the spotlight now falls upon Flatsome, a meticulously crafted theme tailored explicitly for WooCommerce aficionados.
Its allure lies in its sophisticated design elements and an array of functionalities that cater to the discerning needs of online entrepreneurs.
At the heart of Flatsome's appeal is its intuitive front-end page builder, a tool that empowers users to mould their digital storefronts with seamless precision.
The theme boasts multiple product layouts, ensuring a dynamic and visually engaging display of products.
Noteworthy are its built-in variation product galleries, a testament to its commitment to enhancing the shopping experience for both merchants and customers.
A standout feature of Flatsome is its complete theme customization capability via the live WordPress customizer screen.
This facet grants users unparalleled control over the look and feel of their websites, allowing for real-time adjustments without the hassle of backend coding.
Key Features of Flatsome:
Local Google Fonts: Flatsome integrates local Google fonts, adding a touch of elegance and readability to your site's typography.
Multiple Product Layouts: Diverse product layouts cater to varied products, ensuring an aesthetically pleasing presentation for every item.
Drag and Drop Builder: The intuitive drag-and-drop builder simplifies the complex task of website creation, making it accessible to all.
Flatsome Studio with 35+ Design Elements: The Flatsome Studio offers a treasure trove of design elements, including sliders, price tables, product categories, and banner grids, totalling over 35 customizable options.
Over 100 E-Commerce Designs through Flatsome Studio: Flatsome takes it a step further with its pre-built layouts specifically tailored for E-Commerce ventures. More than 100 expertly crafted designs await, ready to be imported with just a click through the Flatsome Studio.
Flatsome's forte lies in its user-friendly front-end design editor, which boasts a plethora of customizable design elements.
From sliders that captivate attention to intricately designed price tables, and from intuitive product categories to visually stunning banner grids — Flatsome's design editor places creative control firmly in the hands of its users.
Moreover, its repository of pre-built layouts, numbering over 100, signifies a boon for those seeking efficiency without compromising creativity.
The Flatsome Studio offers a gateway to expedited website setup, enabling entrepreneurs to kickstart their online ventures with professionally designed layouts.
Flatsome emerges as the quintessential choice for discerning online store owners desiring a harmonious blend of flexibility and simplicity.
This E-Commerce WordPress theme caters to individuals who crave an effortless user experience paired with limitless design options.
Entrepreneurs are drawn to its extensive collection of premade designs, nearly 40 modules, and innate E-Commerce support, making Flatsome an ideal choice for the astute and the ambitious alike.
In a digital landscape where first impressions are paramount, Flatsome stands as a beacon, offering not just a theme but a transformative online identity.
2. Woodmart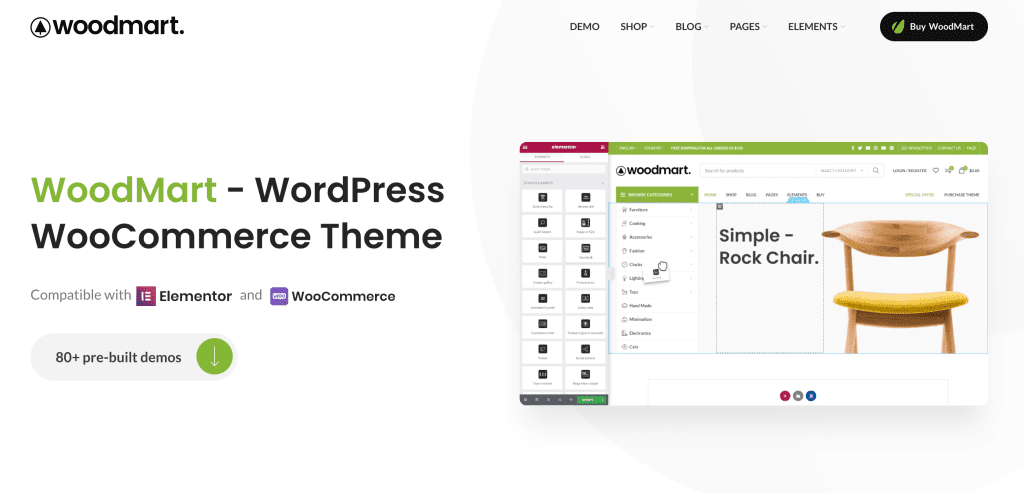 In the realm of premium E-Commerce themes for WordPress, WoodMart emerges as a formidable contender, revered for its cutting-edge design and robust functionality.
This theme stands tall as a testament to innovation, providing an optimal platform for the creation of fully responsive online stores.
Key Features:
Ready-to-Use Demos: WoodMart offers a plethora of ready-to-use demos, streamlining the setup process and allowing for quick customization according to specific business needs.
Efficient Code & Rapid Page Loading: The theme is crafted with clear and efficient code, ensuring lightning-fast page loading speeds. This optimization directly translates into a swift and seamless user experience for your visitors.
Intuitive Theme Control Panel: WoodMart's intuitive theme control panel empowers users with effortless customization options. This user-friendly interface facilitates quick adjustments without the need for intricate coding knowledge.
Retina-Ready Design: The theme provides a retina-ready option, guaranteeing high-resolution visuals and an enhanced viewing experience across various devices.
High-Grade Customization: WoodMart offers extensive customization capabilities, allowing businesses to tailor their online presence meticulously. From fonts to colour palettes and product variations, every aspect can be adjusted via the intuitive WordPress dashboard.
Search Engine Optimization (SEO): Built with SEO in mind, WoodMart ensures that your online store is well-equipped to rank favourably on search engine results pages, enhancing visibility and driving organic traffic.
Advanced Visualization: The theme boasts advanced visualization features, elevating the aesthetic appeal of your online storefront. Visually engaging elements enhance user engagement and encourage prolonged exploration of your products.
Drag & Drop Header Builder: WoodMart incorporates a user-friendly drag-and-drop header building tool, enabling effortless customization of your website's header section. This tool simplifies the process of creating a visually striking and functional header.
At its core, WoodMart is optimized for WooCommerce, providing a seamless and efficient interface for online shoppers.
The theme leverages powerful AJAX technology to deliver an exceptionally swift and smooth shopping experience.
Unlike conventional setups, WoodMart eliminates the need for constant page refreshes, ensuring uninterrupted navigation for visitors.
One of WoodMart's remarkable attributes is its self-sufficiency. Unlike many E-Commerce themes, it doesn't rely on an array of plugins.
Instead, it comes fully equipped with essential features straight out of the box.
From wishlists and product comparisons to AJAX filters and built-in sliders, WoodMart anticipates your needs, eliminating the necessity for unnecessary plugins.
Its quick setup wizard expedites the launch of your online store, requiring only a few clicks to set everything in motion.
One of WoodMart's standout features is its unrivaled focus on speed optimization.
Hours of meticulous work have been invested in implementing industry-leading techniques.
The theme utilizes a unique mechanism to load CSS and JS files only where necessary, drastically reducing page size.
This innovative approach results in load times that are two to three times faster than those of other WordPress themes.
In essence, WoodMart transcends the conventional boundaries of E-Commerce themes.
It isn't merely a design; it's an entire ecommerce solution meticulously crafted to enhance user experience, streamline customization, and optimize performance.
With WoodMart, the tedious battle with sluggish websites becomes a thing of the past. It's a gateway to a dynamic online presence where speed, aesthetics, and functionality harmonize seamlessly.
Embrace WoodMart, and transform your online venture into a symphony of efficiency and elegance.
3. Porto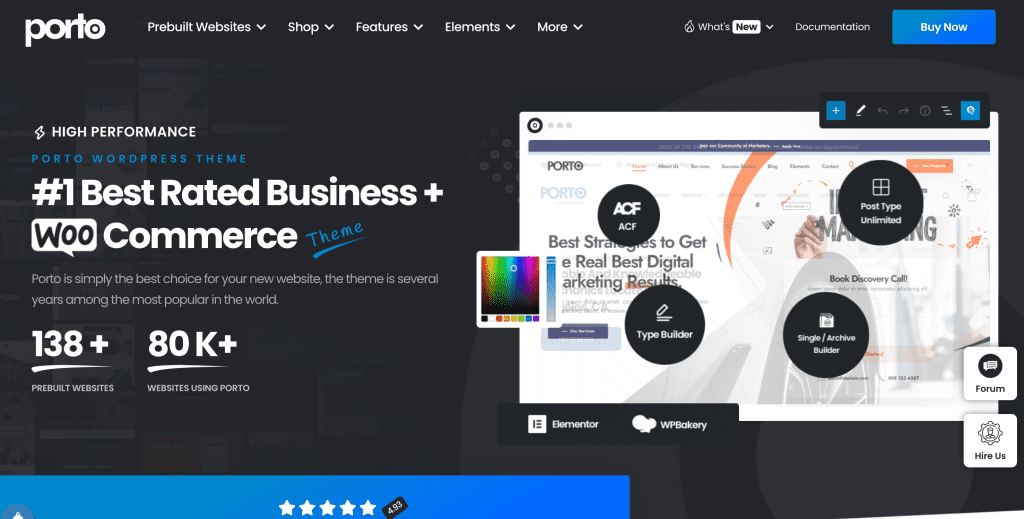 In the expansive universe of WordPress and WooCommerce themes, Porto emerges as an unparalleled choice, seamlessly compatible with a myriad of projects.
Tailored to accommodate the diverse needs of online businesses, Porto offers a selection of templates that can be meticulously curated to match the unique essence of any enterprise.
Versatility Across Niches: Porto's appeal transcends industry boundaries, making it an ideal choice for sectors as diverse as medical, fashion, education, and finance.
Its adaptable features effortlessly cater to the demands of various niches, ensuring a seamless user experience for businesses of all kinds.
Unrivalled WooCommerce Focus: What sets Porto apart is its laser focus on WooCommerce, offering a comprehensive array of features specifically crafted for E-Commerce ventures.
Unlike themes with limited designs and functionalities, Porto stands out with its wide-ranging WooCommerce-focused attributes.
This focus ensures that your online store not only looks appealing but also functions flawlessly, providing a hassle-free shopping experience for your customers.
Key Features:
Responsive Design: Porto boasts a responsive design, ensuring that your website adapts seamlessly to different devices and screen sizes, enhancing user experience.
Child-Ready Theme: Its child-ready theme structure allows for safe customization without altering the core functionalities, ensuring a stable and secure website.
30+ Homepage Layouts: With over 30 pre-designed homepage layouts, Porto provides a plethora of options, allowing you to choose a layout that perfectly aligns with your brand identity.
Drag-and-Drop Functionality: The intuitive drag-and-drop functionality simplifies the process of building and customizing your website, eliminating the need for intricate coding.
WPML and Retina-Ready: Porto is WPML-compatible and retina-ready, catering to a global audience and ensuring high-quality visuals for your visitors.
One-Click Demo Importer: The one-click demo importer facilitates a quick and effortless setup, allowing you to replicate demo content with a single click.
Multi-Vendor Support: For businesses involving multiple vendors, Porto offers robust multi-vendor support, streamlining the management of various sellers within the platform.
Well-Organized Source Code: Porto's source code is meticulously organized, enhancing the theme's performance and facilitating seamless customization.
Innovative Features for Enhanced Performance: Porto introduces several innovative features designed to elevate your website's performance to unparalleled levels.
The introduction of Soft Mode empowers users to make extensive edits without delving into complex coding.
The Critical CSS feature optimizes rendering time by eliminating unnecessary styles, ensuring swift loading even with multiple styles. Merged JS and CSS reduce request counts, enhancing speed, especially on mobile devices.
Additionally, Porto integrates Type Builder and Single & Archive Builders, enabling users to customize post layouts effortlessly.
This level of customization extends to diverse businesses such as beauty salons, dentists, and auto services, among others.
In essence, Porto epitomizes the epitome of a modern WordPress theme, embracing innovation, customization, and performance optimization.
Its commitment to providing a seamless and high-speed experience is evident through its meticulous development process.
Whether you are a burgeoning entrepreneur or a seasoned business owner, Porto's array of features ensures that your online venture not only survives but thrives in the competitive digital landscape.
Experience the epitome of E-Commerce excellence with Porto — a theme that transcends boundaries and redefines online business standards.
4. XStore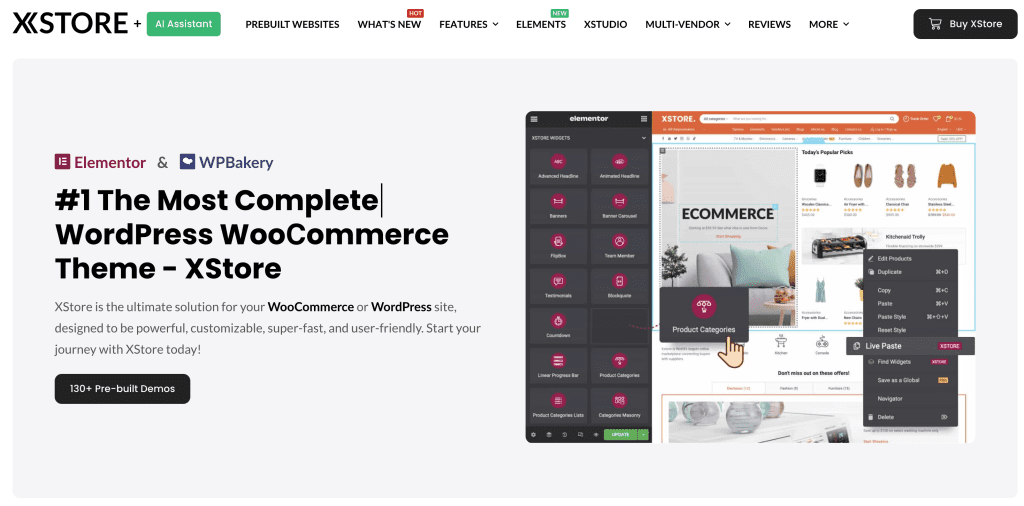 In the vast realm of WordPress themes, XStore emerges as a beacon of intuitive design and seamless functionality, catering to a diverse array of online businesses including blogs, agencies, and enterprises.
Its versatility is underscored by a wealth of features tailored to meet the needs of modern E-Commerce ventures.
Key Features:
Pre-Designed Demos: XStore offers an impressive selection of over 80 pre-designed demos, each unique in its design. These demos serve as a foundation, allowing users to effortlessly craft their E-Commerce stores with elegance and ease.
Customizable Stores: Dive into a treasure trove of 90+ ready-to-go customizable stores, easily installable with a single click. XStore simplifies the process of transforming your vision into a tangible online reality.
User-Friendly Admin Panel: Empowered by a robust admin panel and a live editor, XStore offers a What-You-See-Is-What-You-Get (WYSIWYG) experience. This intuitive interface grants users full control, enabling them to mould their websites to perfection.
Innovative Header Builder: Create visually stunning headers with XStore's unique header builder, elevating your website's aesthetic appeal and enhancing user engagement.
Product Presentation: The single product builder provides a tailored platform to present your products in the most suitable and appealing form. Variation swatches and variation galleries further enhance the shopping experience, ensuring that customers have a clear understanding of your offerings.
Wide Industry Application: XStore's versatility extends across a plethora of industries including electronics, fashion, medical, jewellery, and more. It caters to a wide spectrum of businesses, ensuring a comprehensive solution for every online venture.
Advanced Customization and User Experience:
XStore's Theme Options panel stands as a testament to its user-centric design.
With an intuitive interface, it grants users the flexibility and control needed to personalize their online shops without delving into intricate technicalities.
From layout and typography to colour schemes, the customization possibilities are virtually endless, empowering users to craft a unique online presence.
Additionally, XStore incorporates powerful functionalities including Quick View, Wishlist, AJAX Search, AJAX Filters, and Mega Menus.
These features enhance user navigation, providing a seamless browsing experience and making it effortless for customers to find desired products.
Optimized Performance:
XStore's commitment to excellence extends to its performance optimization.
Engineered for Google Page Speed, this theme guarantees lightning-fast load times, a crucial factor in retaining visitors and improving search engine rankings.
Regardless of the scale of your E-Commerce venture, XStore ensures that your website loads swiftly, captivating visitors and encouraging their return.
XStore stands as a testament to the evolution of E-Commerce themes, offering a harmonious blend of advanced functionality and aesthetic appeal.
Whether you are an experienced developer or a novice embarking on your online journey, XStore provides the tools necessary to elevate your website to new heights.
Join the ranks of over 65,000 satisfied XStore customers and experience firsthand why it is the preferred choice for discerning online store owners.
Transform your E-Commerce venture with XStore's unmatched versatility, customization options, and optimized performance. The future of your online business begins here.
5. Electro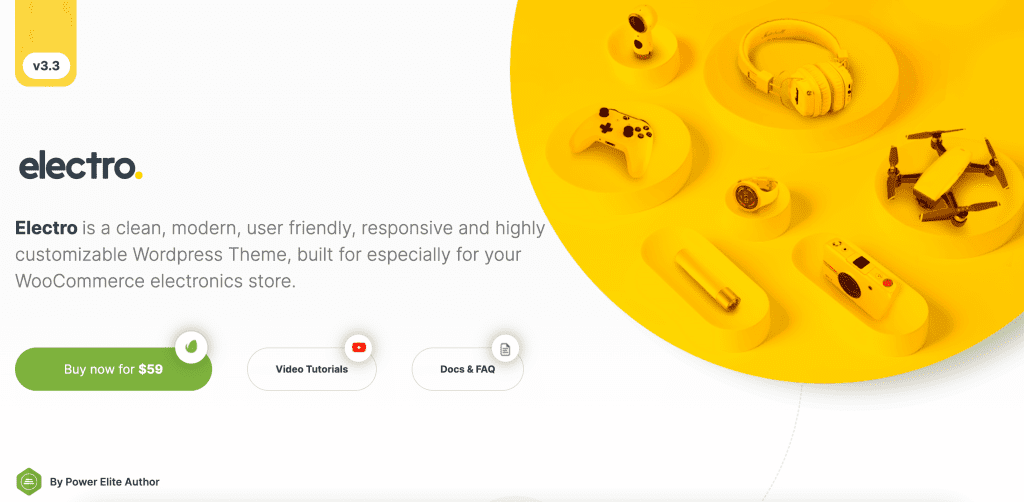 In the dynamic realm of online commerce, Electro emerges as a WordPress theme meticulously crafted for electronic and gadget stores.
It stands as a testament to seamless design and essential features, transforming the online shopping experience for tech enthusiasts and digital consumers alike.
Key Features:
Interactive Features: Electro integrates a search bar and product slider to showcase featured items, facilitating a dynamic shopping journey for visitors. It ensures a user-friendly interface, prioritizing accessibility and ease of navigation.
Order Tracking Support: The theme provides robust support for order tracking, enhancing customer satisfaction and enabling seamless order management.
Responsive Design: Electro boasts a fully responsive design optimized for all devices. Whether accessed from desktops, tablets, or smartphones, the theme ensures a consistent and visually appealing experience across the spectrum of devices.
Integration Capabilities: Electro seamlessly integrates with renowned extensions, including WooCommerce, Visual Composer, YITH WooCommerce Wishlist, YITH WooCompare, WPML, and Dokan Multivendor plugins. This integration amplifies its functionality, making it adaptable to diverse E-Commerce requirements.
GDPR Compliance: The theme diligently adheres to GDPR requirements, ensuring that the store's functionalities align with international data protection standards. Customers' privacy and security are prioritized.
Demo Data Import: Electro simplifies the setup process by facilitating the import of demo data. This feature expedites the initial configuration, allowing users to swiftly establish their online presence.
Customization Capabilities: Electro offers a plethora of customization options, including customizable header styles, varied colour schemes, multiple homepage styles, mega menus, and custom widgets. These features empower users to craft a unique and visually appealing online storefront.
Versatility and Compatibility:
Electro stands out as a versatile WordPress Electronics Store WooCommerce theme, catering not only to electronic stores but also to vendor-based marketplaces and affiliate websites.
Its design mirrors the functionality of renowned E-Commerce giants like Amazon, Flipkart, and Alibaba.
Whether you're an affiliate marketer, a niche market owner, or a store proprietor, Electro's adaptability suits your diverse needs.
Technical Foundation:
Built on the robust Underscores framework, Electro ensures a sturdy technical foundation.
The theme's home pages can be constructed using Page Templates, WP Bakery Page Builder, or Elementor Website Builder, offering flexibility in design.
Its lean and extensible code allows developers to enhance functionality through child themes or custom plugins.
Comprehensive Integration:
Electro deeply integrates with WooCommerce core and several popular extensions and page builders, including Elementor Website Builder, WPBakery Page Builder for WordPress, Slider Revolution, YITH WooCommerce Wishlist, and YITH WooCompare.
This integration enriches the user experience, enabling advanced product searches, diverse product page layouts, and comprehensive product reviews.
Extensive Customization Options:
The theme provides an array of customization options, from layout choices for blog pages to versatile shop page designs.
With 6 pre-defined header styles, 9 colour schemes, and 5 types of home pages, Electro offers boundless creative freedom. Additionally, it supports various post formats, and post thumbnails, and features WPML compatibility for multilingual websites.
Incorporating advanced features like product live search, custom product comparison pages, and catalogue mode, Electro empowers online merchants to present their products in the best light. With a responsive mega menu, wishlist, and compare functionalities from YITH, and customizable product displays, Electro ensures a seamless shopping experience for customers.
In summary, Electro stands as a pinnacle of innovation in the WordPress theme landscape.
Its fusion of cutting-edge features, extensive integration capabilities, and intuitive customization options elevates it to a position of eminence.
Whether you're venturing into affiliate marketing, managing a multi-vendor marketplace, or operating a specialized online store, Electro offers a robust and visually appealing solution.
Join the ranks of satisfied users and experience the transformative power of Electro in shaping your E-Commerce venture into a digital masterpiece.
Embrace the future of online commerce with Electro, where functionality meets aesthetic excellence.
6. Martfury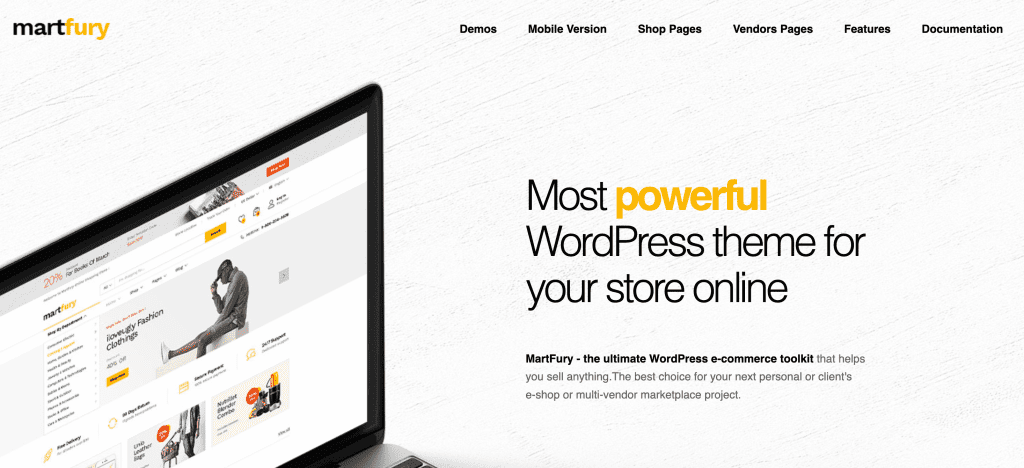 In the bustling landscape of E-Commerce, Martfury emerges as a beacon of modernity and flexibility, offering a premium theme designed to craft visually stunning WooCommerce stores.
Whether you're embarking on a simple online venture with multiple sellers akin to Amazon or managing a dynamic eBay-style marketplace, Martfury stands ready with its array of features and pre-designed demos.
Key Features:
Multi-Vendor Marketplace: Martfury seamlessly facilitates the creation of multi-vendor marketplaces, allowing vendors to sell their products, similar to industry giants like Amazon, Envato, and eBay.
Easy Import: A seamless one-click import feature ensures the swift setup of your online store, sparing you from intricate configurations and allowing you to focus on your business.
Mobile Optimization: Martfury prioritizes mobile responsiveness, ensuring that your store is accessible and visually appealing across a spectrum of devices, from smartphones to tablets.
WPBakery Page Builder: Harness the power of creativity with the inclusion of WPBakery Page Builder, empowering you to craft unique layouts and designs effortlessly.
Translation and RTL Support: Martfury transcends language barriers with translation and Right-to-Left (RTL) language support, facilitating a global reach for your E-Commerce venture.
Conversion Boosters: The theme incorporates conversion boosters, enhancing the user experience and encouraging sales through features such as advanced live search, product comparisons, product deals, and more.
Diverse Product Selling: Whether you're selling simple or variable products, digital downloads, or external/affiliate items, Martfury provides a robust platform. It includes features like an order tracking system, intricate tax and shipping options, and customer product ratings and reviews.
Store Management: Gain control with powerful store management tools, offering features such as unlimited categories, filter options, built-in coupon systems, and detailed store reports.
Visual Appeal: Elevate your products with Martfury's visual enhancements, including product image zoom, color swatches, featured product videos, 360-degree product views, and quick view options.
Technical Advancements: Dive into the technical sophistication of Martfury, boasting features like lazy loading for product images, advanced typography, mega menu support, and social login integration.
Comprehensive Compatibility: Martfury seamlessly integrates with popular plugins and platforms, including WooCommerce, WPML (for multilingual sites), YITH Wishlist, YITH Compare, Contact Form 7, and more, ensuring a holistic ecommerce experience.
Support and Customization: Benefit from reliable support and customization options, including child theme inclusion, SEO readiness, and responsive design.
Martfury's feature-rich environment transforms the complexities of online retail into a streamlined, visually appealing, and user-friendly experience.
Whether you're a novice entrepreneur or an experienced online merchant, Martfury offers the tools and versatility needed to create a successful E-Commerce venture.
Embark on your digital retail journey with Martfury and witness your online store flourish amidst the digital commerce landscape.
7. The Retailer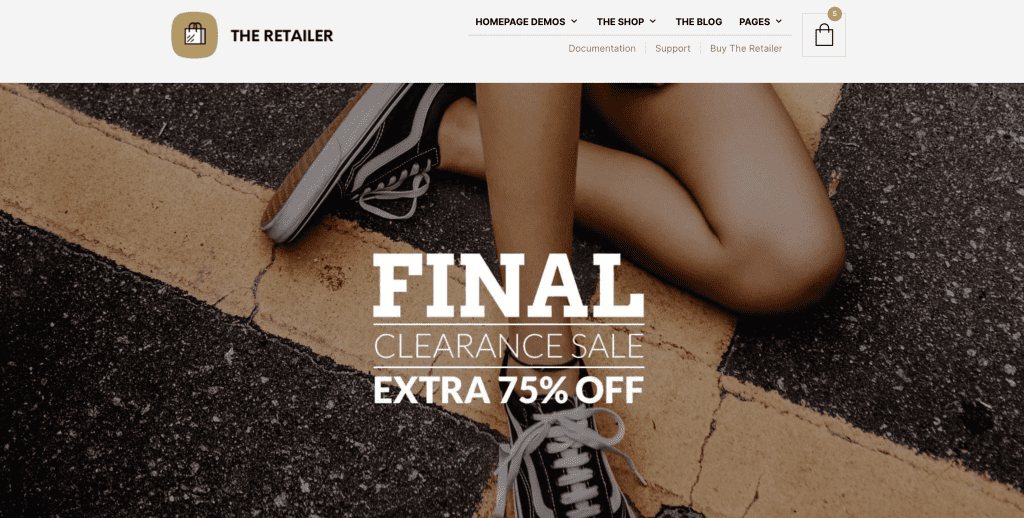 In the realm of online commerce, The Retailer stands as a pinnacle of excellence, specifically tailored for crafting seamless and visually appealing online stores utilizing WooCommerce.
This exceptional theme presents a robust amalgamation of power, simplicity, and flexibility, ensuring that your store is operational swiftly and efficiently.
With pre-designed pages and sample content at your fingertips, the process of store setup is streamlined and effortless.
Key Features:
Multilingual Support: The Retailer seamlessly accommodates multilingual sites through the integration of the WPML plugin. This feature ensures that your store can cater to a global audience, breaking language barriers and expanding your reach.
Versatile Customization: With a potent theme customization panel, The Retailer empowers you to tailor your store precisely to your vision. Its catalogue mode and an array of pre-designed page styles offer diverse options, enabling you to create a unique and visually striking online presence.
Payment Method Diversity: The Retailer simplifies transactions by supporting a multitude of payment methods, including PayPal, credit cards, checks, and cash-on-delivery. This versatility ensures that your customers have a seamless and secure shopping experience.
Intuitive Page Building: The theme integrates the renowned WPBakery Page Builder, providing it to you for free. This powerful tool enables you to customize your product pages effortlessly through a drag-and-drop interface, eliminating the need for complex coding.
Continuous Enhancement: The Retailer extends its commitment to excellence by offering free updates. This ensures that your online store remains up-to-date with the latest features and security enhancements, providing a cutting-edge experience to your customers.
The Retailer isn't just a theme; it's a versatile and acclaimed multi-purpose WooCommerce theme.
Its adaptability allows you to craft a responsive online store that not only showcases products but also serves as a platform for portfolios, personal or corporate sites, and engaging blogs.
In summary, The Retailer transcends the boundaries of traditional online store themes.
Its commitment to user-friendly customization, multilingual support, diverse payment methods, and continuous improvement through updates positions it as a top choice for entrepreneurs venturing into the world of e-commerce.
Elevate your online presence with The Retailer and embark on a digital retail journey that is both seamless and visually captivating.
Experience the future of online commerce with The Retailer, where innovation meets simplicity.
Conclusion
In the rapidly evolving landscape of e-commerce, selecting the right platform is paramount for the success of any business, especially in a thriving hub like Singapore.
As we delve into the realm of digital entrepreneurship in 2023, the hunt for the perfect Ecommerce WordPress theme tailored for Singaporean businesses concludes with our exploration of the "Top 7 Ecommerce WordPress Themes Tailored for Singaporean Businesses in 2023."
The journey we embarked on was not merely a quest for aesthetics, but a deep dive into the core elements that define a successful online store.
Each theme, meticulously handpicked and scrutinized, represents not just a template but a potential gateway to unparalleled online success.
As we wrap up our exploration, it's essential to reflect on the pivotal features and advantages that set these themes apart and make them ideal choices for Singaporean entrepreneurs.
Adaptability to Local Markets: Singapore's diverse market demands flexibility, and these themes provide just that. With options to tweak and customize every aspect, from language to currency, businesses can effortlessly cater to Singapore's multicultural consumer base.
Mobile Responsiveness: Singaporeans are tech-savvy, relying heavily on mobile devices for online interactions. Each theme in our selection boasts impeccable mobile responsiveness, ensuring that your store looks and functions flawlessly on smartphones and tablets.
Multilingual Capabilities: The linguistic diversity in Singapore calls for multilingual support. Our chosen themes integrate seamlessly with translation plugins, allowing you to present your products and services in multiple languages, enhancing your reach and connecting with a wider audience.
Payment Gateway Integration: A smooth payment experience is non-negotiable. These themes offer integration with local and international payment gateways, ensuring that transactions are secure and convenient for both you and your customers.
Speed and Performance: In the digital age, speed is of the essence. Slow-loading websites can drive away potential customers. The themes we've explored are optimized for speed and performance, guaranteeing swift loading times and an overall seamless user experience.
SEO Friendliness: Search engine visibility is vital for online success. Each theme is designed with SEO best practices in mind, allowing your store to climb the search engine rankings and attract organic traffic, enhancing your brand's online presence.
Customer Support: A reliable support system is the backbone of any online venture. The themes we've covered offer robust customer support, ensuring that you receive timely assistance whenever you encounter challenges, and allowing you to focus on growing your business with confidence.
In the bustling digital marketplace of 2023, these E-Commerce WordPress themes serve as more than just templates; they are the building blocks of your online empire.
Tailored for Singaporean businesses, they encapsulate the spirit of innovation and entrepreneurship that defines this vibrant nation.
Whether you're a local startup, an established brand, or an international entity entering the Singaporean market, these themes offer the tools and features necessary to thrive.
As we bid farewell to our exploration of the "Top 7 Ecommerce WordPress Themes Tailored for Singaporean Businesses in 2023," it's not merely an end but a beginning.
A beginning of a digital journey where your brand meets technology, where your products meet potential customers, and where your dreams meet reality.
May your online venture be prosperous, your customer base grow, and your business flourish.
Here's to a future of endless possibilities and unparalleled success in the dynamic realm of Singaporean e-commerce.
If you are looking for the best WordPress Development Agency in Singapore, then book a free consultation slot here.
If you find this article useful, why not share it with your friends and business partners, and also leave a nice comment below?
We, at the AppLabx Research Team, strive to bring the latest and most meaningful data, guides, and statistics to your doorstep.
To get access to top-quality guides, click over to the AppLabx Blog.
People also ask
Which theme is best for eCommerce WordPress?
Determining the best eCommerce WordPress theme depends on specific needs. Popular options include WooCommerce, Shopify, and BigCommerce. WooCommerce offers flexibility and extensive plugins, making it a preferred choice for many businesses. Consider your requirements and budget to select the ideal theme.
Which theme is best for an eCommerce website?
The best eCommerce website theme depends on your specific needs. WooCommerce for WordPress is versatile and highly customizable. Shopify offers simplicity and robust features. BigCommerce combines flexibility and scalability. Assess your requirements to choose the most suitable theme for your online store.
What is a WordPress eCommerce theme?
A WordPress eCommerce theme is a specialized design template tailored for online stores. It integrates seamlessly with WordPress, empowering users to create visually appealing and functional eCommerce websites. These themes often include features like product displays, shopping carts, and secure payment gateways, enhancing the online shopping experience.