If you're a business owner or founder, one of the most important things to do is to open a Facebook for Business page. Having a Facebook page for your Business offers a lot of benefits, including:
Receiving a lot of exposure in the online world. According to Statista, there are "2.7 billion monthly active users as of the second quarter of 2020", thus making Facebook the biggest social network worldwide. Be it increasing your branding domestically or in overseas market, your business definitely needs to be on Facebook.
Promoting your business easily. Facebook Pages are easy to set up and take no more than 5 mins to get things running.
Generating new leads and customers. To run paid ads on Facebook for generating leads and getting customers, you will need to first have a Facebook Page to run your ads on.
Now that we share some brief benefits on why your business should create a Facebook Page, we will then jump right into the process of creating one.
Below are the process and tips to help you create a Facebook page for your business and to optimise your Facebook page for search results on Facebook.
Creating the Facebook Page for Business
Once you are logged in to your Facebook account, either you click "Pages" at your left menubar and proceed to click "Create New Page" or you can click to https://www.facebook.com/pages/create. Here you will be able to start any Facebook pages you want. The next step is to choose the Page Name as it is a required field by Facebook.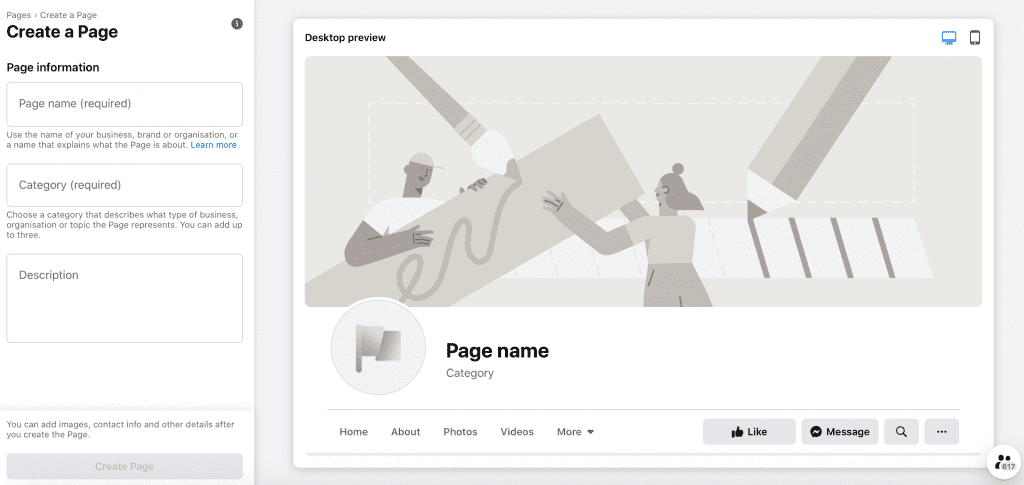 Choosing your Page Name
According to the guidelines set by Facebook, your Page Name must accurately reflect the page and your business and only authorised representatives can manage the Page. This is because in the event that you are "kicked" out of being a Page's administrator, then you will need to present documents to prove that you own the business of the Facebook Page to the Facebook Review Team, in order to get the control back.
An interesting point is you cannot use the word "official" as Facebook is careful not to allow anyone from creating a brand and affixing the word "official" to signify the Page as the true authority of the brand. If Facebook assigns the Page a verified badge, then the Page should no longer and probably no need to include the word "official" there. For more information on verified badge, please click here.
Other guidelines for choosing a Page Name are:
You cannot use any variation of the word "Facebook"
Description or Slogan to perhaps try to rank top of the search results. For example: AppLabx – The Top Digital Marketing Agency in Singapore
Symbols or unnecessary punctuation
Improper capitalisation. For example: APPlAbx. Honestly, this will look weird to inbound users to the Page, even if Facebook decides to allow it down the road
Terms or phrases that may be abusive or in violation of someone's rights.
Adding Pictures
Branding is essential for Facebook marketing, and that's why you want to make sure your images are on point, and very appealing. They should include your logo and brand colors. Try to showcase the signature offers you have right now and make sure that you stick to the right image size. Pictures need to be 128×128 pixels for mobile and 170×170 pixels on desktop. You will also need a cover photo that should be related to your business; many companies choose to have a simple image with the business logo. The cover image needs to be at least 400 pixels wide and 720×315 pixels.
Choosing the username for Facebook pages
The page username can be your company name. The Page Username can have asterisks and other special characters, but that's is not possible for the username itself. It's essential to know what structure you should use, as it will provide you with better results.
Adding Facebook for Business details
You don't need to share a lot of info unless you want to. It's a good idea to share the business description, categories you target, contact details, your location, opening hours, and any extra options like privacy policy, price range, and so on. Save the changes and then move onward.
About page / Our Story
This is where you connect with your audience, so you need to share your company's story, why you created this business, and what you can offer. Adding a headline is important, and you might also want to add a relevant photo.
Writing your first post
Now that you are all good to go, it's essential to create posts for your business. Ideally, you want to create a post that welcomes people to your page. Avoid self-promoting right from the start. Self-promotion is vital for Facebook marketing, but you don't want it to be the main target of your presence on this platform.
Publishing your page and sharing it with others
You can share your page with people from your personal Facebook page, and you can also choose to share it on other social platforms. Make sure that you always try to share your page with others, as it will give a lot of exposure. The more you share it, the better.
It's imperative to have Facebook pages for business because they help gain the attention of new leads and customers. The more people you attract, the better it will be. It's not going to be simple to generate buzz around your business, but creating social media pages will help. Establish your own Facebook for business page today and start promoting it, you will soon have new clients knocking at your door!
Now that you've successfully set up your page, let's move on to the next step and start marketing your products on your new platform. Learn more.
Or if you need a professional marketing agency to help create and optimise your Facebook Page, do let us know here.