In this increasing digitalised world, we obtain almost everything online. More businesses are entering the online world, especially with the recent pandemic. Despite the heightened competition online (you are literally competing with millions of people when you put your products online!), businesses still find value investing in digital marketing. Why is that so? Why is digital marketing so important? How can digital marketing grow your business during these trying times in Singapore?

In this post, I will be sharing 5 reasons why digital marketing can help grow your business.
Cost-effective
Brand Awareness
Engage your existing audience
Allow you to know your customer well
Personalise content
For a primer on what is "Digital Marketing", we have created a brief overview and tutorial on it.
1. Digital marketing is cost-effective.
Signing up for social media is free. Sending emails is free. Apart from paid advertising that you wish to partake in the future (which is relatively affordable), creating an account on social media platforms is free. There are many ways in which you can market your products with low, or no cost, which I will highlight a few in this post. Moreover, you can simply use your mobile phones to engage with your target audience through social media pages or emails. No additional costs acquired!
2. Digital marketing helps to increase brand awareness.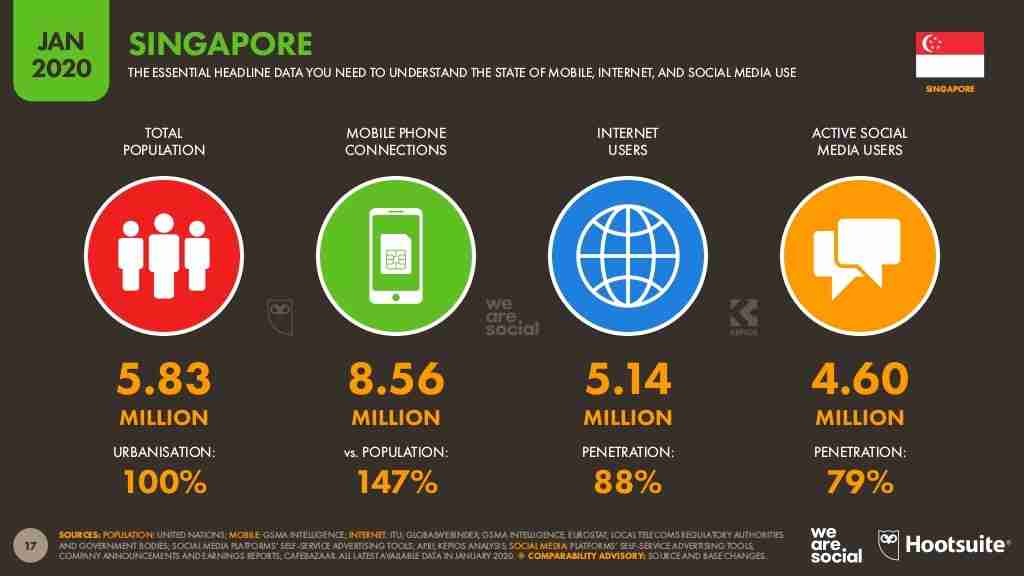 Digital marketing allows you to market your products to an unknown group of leads everywhere online. It targets people that your traditional marketing strategy has missed out. Considering that more than 4.6 million Singaporeans are social media users and the new scale of the Internet and mobile usage in this sunny island, your content is bound to reach a few, if not a few thousands of them. Just a quick stop of 10 seconds at your Instagram post is an increase in brand awareness for your company. Especially when most people are at home and doing their shopping online, it is a good time to make yourself visible online to people who don't know you yet.
3. Digital marketing helps to engage your existing audience.
By providing useful content that your audience finds valuable, you can build trust with them, and make them want to find you for help and assistance whenever they face a problem. This establishes you as a credible source in the industry which helps to increase conversion rate.
4. Digital marketing allows you to know your customers well
Digital marketing allows for many forms of feedback channel to hear what your customers have to say about your product. You can either search yourself up on social media channels to hear what people are talking about you, or you can open up polls and create questions-and-answers content to understand what is lacking in your product. This forges stronger and healthy relationships with your existing customers and allows you to constantly know where to work on. Digital marketing is not just about marketing your product, but also forging long-term relationships with your customers.
5. Digital marketing allows you to personalise content.
In this world where people tend to binge online content, it is important to portray your content and product as something that they need in their lives. And that calls for personalisation. You can personalise the content put out to the needs of your targetted audience through digital marketing. You can also categorise your customers into different groups with different needs and provide them with content, be it through email or social media, that fulfil their needs. This way, it could potentially lead to more leads and higher conversion rate.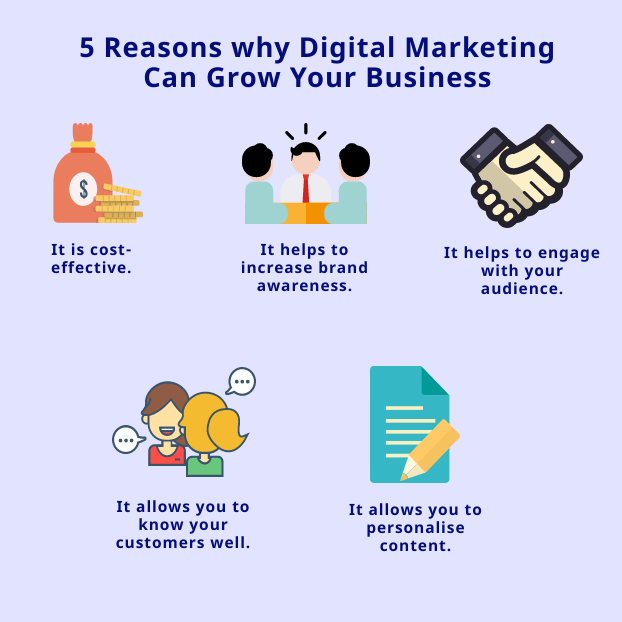 There you have it- 5 reasons why digital marketing can grow your business! There are more reasons why digital marketing helps boost businesses but eventually, it is your decision to devise a marketing strategy that works for your company. With the current Covid-19 situation, it could be wise to re-evaluate your current marketing strategy and integrate/boost your digital marketing strategies. After all, digital marketing allows you to focus on your niche audience with low-costs, and help you to generate leads. The best thing is that all these are done ONLINE, which is what all of us appreciate during these trying times.
Interested to find out what possibilities digital marketing can bring you? Say hello to us at [email protected] and we will be more than willing to share with you what we do here at AppLabx!